Doon Club skips celebrations
Divya Semwal
Tribune News Service
Dehradun, December 31
The echo of the Mumbai terror attacks is not only being felt in the Doon valley and the hotels and restaurants here but also at Doon Club, the heart of Dehradun and the place where every other day, people get together for celebrations, as the club is also not organising its famous grand New Year eve bash.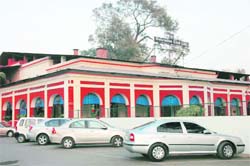 There were few visitors at the Doon Club on the eve of New Year. Tribune photo: Vinod Pundir
For the past several years, more than 2,000 persons get together to unwind on the occasion, to enjoy good food, music and drinks and to wish each other a rocking New Year.
"In view of the national sentiment this time, we are not organising any party though our club will be open as usual. After the tsunami, this is the second time that we are not celebrating New Year," said Sudhir Arora, president, Doon Club.
Uttarakhand has been a traditional contributor to the defence services and the Doon Club, being 108 years old, holds a special bond with army men, who time and again have sacrificed their lives for the sake of the motherland.
"Since long, families of the army men have been a part our club," said Sudhir Arora.
Every year, the New Year celebrations at the club are one of the best and attracts the most elite crowd in the city. "People somehow associate with this club and retired officers and businessman are regular to our club. Last year, our lawn was jam-packed with people and we specially called four to five caterers and a bar specialist with exquisite decorations and music. This year, we have not done any kind of decoration and if our members turn up, we will only be serving food," said Sudhir Arora.
People in the city are also not in a mood for any kind of celebrations. "Last year, we went to Delhi to celebrate with our family and friends but after the attacks in Mumbai, we are just having a small get-together with our close friends," said Rajiv Arora, a businessman.
"I am just going to order Chinese food and relax with my family. I am not in the mood for a party after the Mumbai attacks," said Puja Garg, a housewife.
Doon had witnessed a quiet Christmas this time. "This year has been horrendous and I wish that in 2009, we have peace and an environment where each one of us can live without any kind fear," said Reema, a college student.
"This year has shaken all of us with deaths of innocents. I am happy that most of the club members are respecting our decision by not celebrating New Year eve," said Sundir Arora.