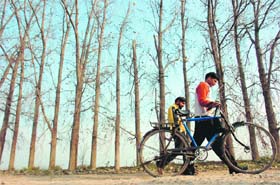 Two boys walk along the road in the RS Pura area on the outskirts of Jammu. Tribune photo: Anand Sharma
Kashmir Administrative Service exams
DD provides counselling to aspirants
Srinagar, January 27
Not only professional courses like the MBBS or engineering, but also competitions in other professional, non-professional and administrative fields enthuse the student community in Kashmir.
Fenced out of native place, residents seek relief
Qasba-LoC (Poonch), January 27
Every morning, Muhammad Din, his brother, Muhammad Kareem, and their wives, Hasham Bi and Haneefa, leave their house in a colony here, for their native village of Kerni on the other side of fence near the Line of Control (LOC).
Solar energy lights up their lives
Kishtwar, January 27
With the state authorities disbursing solar lights on subsidised rates to residents of Inchan and Nawapachi, the remotest hamlets of Kishtwar; the Dacchan, Marwah and Wardwan belts of the district are now covered under solar energy.
Banda Singh Bahadur
A forgotten warrior
Jammu, January 27
One of the greatest Sikh warriors, Banda Singh Bahadur, remains a forgotten hero in the state from where he actually belongs. Banda Singh Bahadur, who is believed to have laid the foundation stone of the first-ever Sikh kingdom of Punjab after confronting the Mughal army, does not have a single memorial in the state of his birth.


Drug de-addiction centre grapples with staff shortage
Jammu, January 27
Mashwara Kendra, the only drug de-addiction centre in the entire Jammu division, is grappling with space and staff constraints. Situated in Purkhoo Domana, the 15-bedded centre is being run by a Delhi-based NGO called Society for the Promotion of Youth & Masses.

Mashwara Kendra, a drug de-addiction centre, on the outskirts of Jammu. A Tribune photograph