CM for more financial powers to states
Amritsar, January 27
Addressing the Republic Day function here, Chief Minister Parkash Singh Badal said the states had limited powers to meet the aspirations of their people as the gap between the haves and have-nots was widening, creating a socio-economic crisis in the country.
Let's rid Punjab of drugs, says Sukhbir
Patiala, January 27
Deputy Chief Minister Sukhbir Badal has called upon the people of Punjab to work in unison with the SAD-BJP government to eradicate the menace of drugs from the state and establish Punjab as an ultra modern and drug-free state.
Inside Babudom
New DCs for Mohali, Ludhiana, Patiala
Strong message for the corrupt in reshuffle
Chandigarh, January 27
Tainted officers or those facing allegations of corrupt practices will hold no position of public dealings is the message of the first administrative reshuffle ordered by the Punjab government that named new Deputy Commissioners for Ludhiana, Mohali and Patiala besides eight Subdivisional Magistrates.
Special award for teacher couple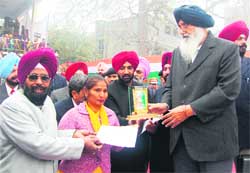 Amritsar, January 27
Chief Minister Parkash Singh Badal yesterday announced a special Republic Day award to teacher couple master Ajit Singh and his wife Satpal Kaur for bringing light to hundreds of orphans of the Maqboolpura slum locality on the outskirts of the city having dubious distinction of being labelled as "locality of widows".
Master Ajit Singh and Satpal Kaur receive award from CM Parkash Singh Badal in Amritsar on Monday. Photo: Vishal Kumar
Padma Big Bs: Bajaj, Bindra, Balbir, Bhajji
Chandigarh, January 27
A physician of eminence, the country's first-ever individual Olympic gold medal winner, a cricketer and a hockey Olympian of yesteryear are the four Punjabis who figure in Padma awards list announced by the Union government yesterday.



Prof JS Bajaj, Abhinav Bindra, Balbir Singh, Harbhajan Singh
Kuka movement, Jallianwala get national status
Chandigarh, January 27
At the instance of Chief Minister Parkash Singh Badal and intervention of Prime Minister Manmohan Singh, the government of India has decided to treat the Kuka Namdhari movement,1871, and Jallianwala Bagh massacre,1919, part of the national freedom movement.
Doctors jam traffic
Anandpur Sahib, January 27
Rural doctors, under the flagship of Rural Medical Services Association, held a dharna and jammed traffic on Anandpur Sahib-Nangal highway here today. Six of them were booked for violating section 144 of the IPC and causing disruption of traffic.


Stamp duty challenged
Chandigarh, January 27
Claiming imposition of additional stamp duty of three per cent in the name of social security fund by Punjab was unconstitutional, illegal and arbitrary, a PIL has sought directions to quash it.


Sexual Exploitation Case
DNA of ex-sarpanch matches child's
Moga, January 27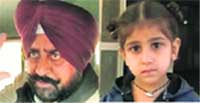 At last five-yesr-old Prabhjit Kaur's biological father has been found. She will have to fight legal battle and face trauma to use her father's name. The man who exploited her mother sexually is married and has children from his legal wife. His relation with the girl's mother, as per the law, is illegal.
Harnek Singh/Prabhjit Kaur