Primarily, dysfunctional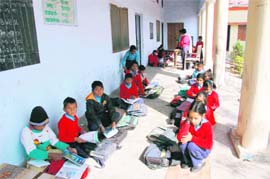 Dehradun, January 31
Broken windowpanes, paucity of classrooms and blackboards in poor condition. This is the sad tale of city government primary schools. Woefully short of infrastructure, most primary schools are in a pathetic condition but the government attitude remains nonchalant.
Students of Government Primary School, Dobhalwala, being taught in the corridors of the school. Tribune photos: Vinod Pundir
Magpie camp aflutter with bird-watchers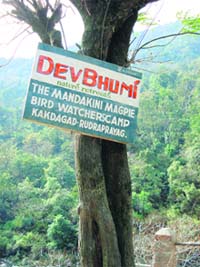 Dehradun, January 31
For birdwatchers from across the country, the non-descript Kankra Gad in Mandkini valley in Rudraprayag district of Garhwal hills continues to be a most sought after destination - the valley houses Mandkini Magpie Bird Watchers' Camp. Interestingly, this camp is a result of the initiative of a village youth - 45-year-old Yashpal - who neither had any formal training on bird-watching nor knowledge of eco-tourism. And during winters, the camp is abuzz with activities as bird-watchers find this time of the year most suitable to spot some of the rare Himalayan birds that arrive in sylvan surroundings of Mandakini valley.



A view of Mandakini Magpie Bird Watchers Camp in Rudraprayag district. Tribune photos


Rang De, Basanti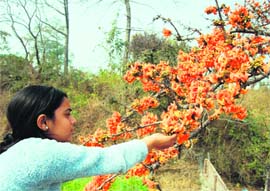 On Basant Panchami, a girl picks Tesu (Butea Mono Sperma) flowers in Dehradun on Saturday.Tribune photo:Anil P. Rawat
The legacy of British banks
The British East India Company, which came here for business ventures, introduced banking system in India to regulate the income they made out of trade in South-East Asia.
Sufi qawwal mesmerises
Roorkee, January 31
The famous sufi qawwali singer, Qadar Niazi, was in the town to give performance in the annual cultural affair, Virasat Fest 09, at the Indian Institute of Technology (IIT-Roorkee) started with much fanfare, here yesterday.
State short of 71 ayurvedic doctors
Dehradun, January 31
The state health department is finding it difficult fill up the 71 vacancies for doctors on contractual basis for its various ayurvedic dispensaries.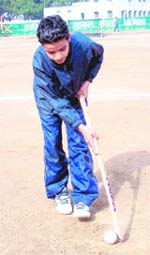 Way above his league
Haridwar, January 31
Akhtab Khan is being projected as the next big thing in hockey. He has scored brilliant goals in national tournaments. He won the hearts of hockey lovers with his performance in the 77th All-India Shraddanand Hockey Tournament held in Haridwar recently. Hockey experts say that this 12-year-old is equivalent to those playing in the under-19 category. He has played in seven national-level tournaments and his coach Iqbal Khan puts Akhtab, a Class VI student of St Pauls, Moradabad, Uttar Pradesh, in the league of upcoming hockey stars of the country.


Akhtab Khan
Knockout girl
Dehradun, January 31
At the age of 25 years when most girls struggle to make a career, Durga Thapa has proved her worth by being the first woman judge from Uttarakhand in an international boxing championship.