Works of 25 artists under one roof
Ravi Bhatia
Tribune News Service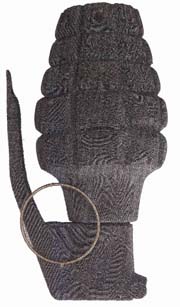 New Delhi, February 15
Gallerie Alternatives in Gurgaon is offering a treat for art connoisseurs of the National Capital Territory of Delhi as it celebrates its10th anniversary this year. It has organised an exhibition 'Collective Intent-IV' to mark the event. The exhibition that displays the works of 25 artists is on till February 28. 
Artworks of S.H. Raza, Krishen Khanna, Himmat Shah, Manu Parekh, Rajeev Lochan, Sanjay Bhattacharya, G.R. Iranna, Ranjeeta Kant, B. Bodh, Trupti Patel, Krishna Murari, Narendra Pal Singh, Kunal, Mridul Chandra, Nandita Chaudhuri, Kitty Hazuria, Shalini Saran, Sunaina Bhalla, Tapas Biswas, Kosal Kumar, Viky Arya, Karan Khanna, Sanjay Singh, Kavita Jaiswal and Ashwani Kumar  Prithviwasi are on display.
'Voice Of Violence'
'Voice Of Violence', an exhibition of paintings by Ram Bali Chauhan has been shifted to The Mint gallery. It will continue till March 5.
The expo was earlier held on February 11 and 12 at Stainless Gallery.
'Letter fest'
The Sahitya Akademi is organising its annual festival of letters from February 16 to 21. Functions stressing on the importance of art and literature will be held.
Painting exhibition
Nitanjali Art Gallery here has organised a five-day is exhibition of paintings by some well-known contemporary artists at Galerie Romain Roland, Alliance Franscaise from February 14 to 18.
'Flute recital on Feb 22'
Master Anirudh Bharadwaj will present a flute recital on February 22 at Kalaikodooma premises as part of its silver jubilee celebrations. Students of the institute will also present a short Bharatanatyam recital after that. 
'Drawn with Thread'
'Drawn with Thread', an exhibition of drawings by Gopika Nath, is being held at Gallery Seven Art Limited in Greater Kailash-II from February 19 to March 13.
The exhibition evokes the harmonious state of being referred to as 'that sacred space'. It shows the emotions, tempos and fleeting moments that fuel the rhythm of a graceful dancer.
Gopika Nath is a textile designer, fibre artist, writer and teacher who began her association with textiles in 1976.  She has also worked for the corporate world, handloom industry, retail organisations, fashion designers, exporters and educational institutes.
'Jewellery exhibition'
The famous Surana Jewellers of Rajasthan is holding an exhibition of their exquisite gold and diamonds creations at Jahanara Hallin, the Taj Hotel, here, from February 14 to 16.
'An evening of qawwalis'
The Indian Council for Cultural relations and the Embassy of the Islamic Republic of Afghanistan are organising an evening of Sufi qawwalis at FICCI Auditorium here on February 21.
'From architect's lens'
'The Abstract Haze of Reality-II', a weeklong exhibition of pixographix art by Ahmedabad-based artist Khushroo Kalyanwala, 49, ended on February 7 at The Attic on Parliament Street here.
Khushroo is an architect and a designer too. It was his second solo show in the Capital.
Photography is only the initial medium that captured the essence of what the final product could be.
He has enlivened colour, texture and composition in his works through the eyes of an architect/designer.
The pre-conceived composition of the image, the visually-rendered effects and the unconventional print medium — all lend themselves to abstracting the subject and abstracting the concept of photography itself, where it is only one of the mediums used to express the final "mixed media" like images.