RS Poll
Panthers earn flak for supporting PDP, NC
Udhampur, February 15
Claiming to be guardian of the interests of people of Jammu region, the Jammu and Kashmir National Panthers Party (JKNPP) has been facing criticism from all quarters for supporting the Peoples Democratic Party (PDP) and the NC in Rajya Sabha elections held on Friday.
Water Resources
Guard vital interests, Mufti to govt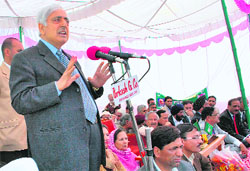 Jammu, February 15
Former Chief Minister and PDP patron Mufti Mohammad Sayeed today called for adopting a fresh approach to address the state's economic and fiscal woes. "The continuing arbitrary exploitation of our water resources must end to safeguard our economic interests," he said. Addressing a party activists' convention here, the Mufti said: "The state's natural and water resources need to be freed from the current exploitative arrangement that has doomed its economy, reducing it to a begging bowl."
Budget must 'focus' on farm sector
Jammu, February 15
Stressing an increase in the allocation for the farming and allied sectors in next year's budget, state CPM secretary and Kulgam MLA MY Tarigami has said agriculture and horticulture being the primary sectors of the state's economy be accorded priority. In a statement here , Tarigami said to safeguard the interests of peasants, the government should give special attention to agriculture and allied sectors, as these were providing livelihood to over 20 lakh people of the state, directly or indirectly.
PDP for plan to tackle power crisis
Srinagar, February 15
Expressing dismay over the acute power crisis in the valley, the Opposition People's Democratic Party (PDP) today asked the government to come up with a result-oriented action plan to deal with the crisis.
Allotment of flats under scanner
Jammu, February 15
The allotment of 196 two room tenement (TRT) built at Nagrota for the deserving Kashmiri Pandits migrants living in Nagrota camps by the Relief and Rehabilitation Commission has come under scanner.Amid allegations of money exchange, fingers on the impartiality of Relief and Rehabilitation Commissioner (RRC) Vinod Kaul have also been raised. The RRC has tried to assuage the discontent by calling the meeting of both the camps comprising eight members, three members headed by Congressman Shadi Lal and five dissidents today.
Tenant alleges forcible eviction
Jammu, February 15
Even as a 'tenant' levelled serious allegations on former legislator Late Hans Raj Dogra's two sons of trying to forcibly evict him from a prime location in Gole Market in Gandhi Nagar, the latter and the police claimed that the land measuring nearly two kanals had been duly registered in the name of a Dogra family. Addressing mediapersons here today, the tenant, Laxman Singh, claimed that 18 years ago, Late Hans Raj Dogra had given a shop to him on rent of Rs 500 per month.
Mock drill to train residents in rescue steps
Jammu, February 15
The Civil Defence of Jammu today demonstrated a mock drill to train around 1,400 Jammu residents, including school and college students, to save causalities in case of an eventuality that arises due to a natural disaster or a probable terrorist attack.
Pahalgam coldest in valley
Srinagar, February 15
Pahalgam, the world famous tourist resort, was the coldest place in he valley while Drass was the coldest in Ladakh region.
Found absent, 22 placed under suspension
Srinagar, February 15
The government has suspended 22 officials, most of them hailing from the Roads and Buildings department, posted in Bandipore district after they were found absent from duty during a surprise visit by a team of senior officials led by the ADC.
4 injured in Srinagar clashes
Srinagar, February 15
At least four persons were injured in clashes in downtown of Srinagar today.
Soldier slips to death in nullah
Rajouri, February 15
Lance Naik Barkat Singh of Amritsar (Punjab), posted with 269 Engineering Regiment stationed in the Nariyaan area of Nowshera, died this morning after he fell into Rajouri nullah near his camp. Barkat Singh who received a head injury died on the spot, Army sources said.
Two held with heroin
Jammu, February 15
The police has arrested two persons and recovered 1 kg heroin and 34 kg poppy straw from their possession in two separate incidents in Jammu and Samba districts, the police said today.
Hideout unearthed
Srinagar, February 15
During search operations, the police and 51 battalion of the BSF unearthed a hideout in the Paner forests falling under Bandipore police station.