Now, masks to ward off man-eaters
The Uttarakhand Forest Authorities have decided to
provide masks in villages affected by man-eater
leopards in an attempt to scare them away
Jotirmay Thapliyal
Tribune News Service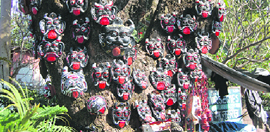 A file picture of face masks
on sale in Dehradun.
Dehradun, March 5
After their successful experiment in the Sunderbans in West Bengal in warding off animal attacks, human face masks have found their way into Uttarakhand hills.
Faced with the man-eater onslaught, villagers in the Sunderban region of West Bengal had started putting brightly coloured masks to scare man-eater tigers.

Sharp-shooter sent
to Nalni village
Nainital, March 5
The Uttarakhand forest department has sent a sharp-shooter to Nalni village to eliminate a man-eater leopard, which mauled to death a woman on Monday.
The animal had killed a 40-year-old woman in the forest where she had gone to collect fodder.
The anxious villagers had asked the authorities to save them from the man-eater, officials sources said. The department has asked the villagers to be alert. — PTI
The experiment with masks started in 1986-87 and proved to be a resounding success in the Sunderbans delta area of West Bengal.
Taking a cue from the successful experiment, Uttarakhand Forest Authorities too have, for the first time, decided to provide masks in the villages affected by the menace of man-eater leopards.
The incidents of man-animal conflict have been on the rise in Garhwal and Kumaon hills. Masks have been distributed in Pungarghati area in Bageshwar district and Chukhutia region in the Almora district.
As many as 1,000 masks have been purchased as part of the first lot and the purchase of many more masks is in the pipeline.
"The distribution has already begun and we are very hopeful of its success," said Manoj Chandran, Divisional Forest Officer in Almora which had witnessed a spate of child deaths in leopard attacks recently.
The process of acquiring human masks has been difficult. It is easier to get a mask
of an animal.
"We have somehow managed to get human masks from Delhi," said Manoj Chandran. After much search, plastic human masks were available only in the China Market.
AK Updhayaya, DFO, Bageshwar, said that initially, one mask per family is being distributed. The number per family could be increased in case of availability.
Dr SP Goyal, scientist at Wildlife Institute, Dehradun, said it has to been seen how far these masks will be able to check leopard attack on humans.
"The success of these masks depends on visibility. In case of the Sunderbans, visibility is better and so the masks proved successful there.
"The success of these masks in the poor visibility of the thickly wooded forests in the hills needs to be checked," Dr Goyal added.
Senior IFS officer Vinod Rishi, who had worked in the Sunderbans when mask distribution was undertaken as part of the one-year programme in 1986-87, said while the masks proved to be 100 per cent successful in case of Sunderban man-eaters, it would be dicey in Uttarakhand.
"Even after we had stopped the distribution of masks in the Sunderbans, villagers continued to purchase it on their own revealing their faith on masks as a credible means to ward off tiger attacks," Rishi said.
However, apprehensions continue over the success of masks on man-eater leopards in the case of Uttarakhand.
In Sunderbans, humans were only attacked when they ventured inside the forest. In Uttarakhand, leopards have been attacking human settlements and making children and women their targets even at their homes.
"The success of masks is doubtful in case of a habitual man-eater," argues Rishi as a leopard in the habit of attacking humans from early adulthood cannot be stopped from attacking humans by the means of masks.
The correct usage of masks is also a matter of importance. In case of the Sunderbans, it was seen that many villagers did not put these masks behind their heads in a proper manner.
They utilised them as caps thus making themselves vulnerable to tiger attack and the masks got defamed instead.
Nearly 200 persons, mostly children and women, have lost their lives while 400
persons have been injured in leopard attacks in Uttarakhand since the inception
of the state.