The state's Central Ground Water Board, which conducts an assessment every five years, has revealed a substantial depletion in the main Dehradun aquifer
Doon's water source running dry
Jotirmay Thapliyal
Tribune News Service
Dehradun, March 6
Doon is set to face another major water crisis. Reason: Over-exploitation of its ground water resources has led to depletion of the main Dehradun aquifer.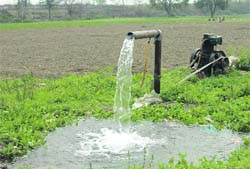 A file picture of a tubewell in Kargi village near Dehradun. A Tribune photograph
There are as many as 200 tubewells in Doon Valley that extract as much as 1,000 litres per minute per cubic mts of ground water while operating for as long as 10 hours a day. This assumes significance as most of Dehradun's potable water supply is dependent on ground water. Eighty per cent supply to Doon Valley is through tubewells, which are directly dependent on ground water for recharge. Most of these tubewells are under the Jal Sansthan, while a few are under the irrigation and other departments.
However, water levels in summers have fallen drastically in recent times and availability of potable water continues to be a big challenge.
Albeit Dehradun has vast ground water reserves, the speedy rate of withdrawal has certainly is a matter of concern. In addition, most of the rainwater runs off to the plain areas depriving the valley of its benefit.
In recent years, Doon valley has been among the top few cities in the country that have received record rainfall during monsoons. However, rampant construction has considerably shrunk the surface area meant for percolation of water into the earth.
The coming up of settlements alongside seasonal rivers is another grave problem. These riverside clusters of houses have substantially reduced the potential surface area of recharge. The surface areas of seasonal rivers and nullahs that criss-cross the valley have reduced the possibility of ground water recharge to a big extent.
Geologists informed that the northern area of Doon Valley was best suited for ground water recharge, as the typical geological formations facilitate easy percolation of rainwater down into the water table. But rampant construction in this part of Dehradun is proving detrimental for the same.
The state's Central Ground Water Board, which conducts an assessment every five years, has recently revealed a substantial depletion in the Dehradun aquifer, which is the main source of water here.
"The main Dehradun aquifer is fast getting depleted due to speedy withdrawls," said Dr RP Singh, director, Central Ground Water Board, Dehradun. He said there has been indiscriminate tapping of ground water resources due to lack of effective management and there is an urgent need to sensitise the masses on the issue.
Dr Singh said the potential of the main aquifer in Doon valley could substantially reduce in the days to come if best management practices vis-à-vis extraction of ground water resources were not undertaken immediately. He admitted that rampant construction and encroachments at the site of seasonal rivers and nullahs are also decresing the rate of recharge.
The Environment Protection Act of 1986 calls for conservation of ground water and a check on its injudicious exploitation. It is thus more important to conserve than to develop underground water sources.
Fortunately, while ground water depletion is a major challenge, the two major rives that crosses the two ends of Dehradun - Ganga and Yamuna - are maintaining a steady flow as of now.
"The quantity of water in both Ganga and Yamuna rivers has been consistent and there is no immediate threat as of now. But we still need to continue monitoring of these two rivers," said NN Rai, executive engineer, Central Water Commission, Himalaya Ganga Division, Dehradun. He said a comprehensive database linked to overall water availability should be immediately put together.
"While Gangotri glacier will make an interesting subject of study for many, a conclusion can only be authentic if it comes through a long-standing study amply backed by proper database," said Rai.
Recharge through water harvesting has also not picked up much in the state, and albeit there are provisions for it they are seldom made mandatory.
However, the Central Water Ground Board in one of innovative measures has successfully.