'Avoid synthetic colours this Holi'
Bathinda, March 8
With Holi just three days away, health experts suggest extra precaution to protect eyes from the harmful effects of the toxic colours. Doctors maintain that the commonly used synthetic colours are actually chemicals. They contain heavy metals like lead, which is harmful to the eyes and skin.


BATHINDA: The Devta Yadgari Manch celebrated the International Women's Day at the Teachers' Home here on Sunday. State Bank of Patiala assisted in organising the function. About 11 women, who have a done commendable job in their respective fields, were honoured. Dr Kirpal Kaur, a writer, and Savita Malhotra presided over the function. Kirpal also released her new book on the occasion. — TNS
Dr Kirpal Kaur shows a copy of her new book 'Main ton main tak' at the Teachers' Home in Bathinda on Sunday. Tribune photo: Malkiat Singh
Graft Case
CBI seeks sanction to prosecute Army clerk
Chandigarh, March 8
The Central Bureau of Investigation (CBI) has sought sanction to prosecute a civilian clerk posted in Headquarters Western Command, after prima facie establishing that he had accepted money from people seeking employment in Army establishments.
COI findings, directions can be disclosed: CIC
Chandigarh, March 8
The Central Information Commission (CIC) has directed the Army to disclose the recommendations of and directions on the findings of a court of inquiry (COI) constituted by the Army, under the Right to Information (RTI) Act.
Brick kiln workers seek minimum wages
Bathinda, March 8
The Bhatha Mazdoor Union during its meeting held at Deep Nagar here today demanded implementation of minimum wages and deduction of provident fund. Tahal Singh, general secretary of the Union, said a majority of the brick kiln owners were not even paying old minimum wages (Rs 216) to their workers, whereas the new rate of minimum wages was Rs 250.
Cotton arrivals in state markets down by 18 pc
Mansa, March 8
There has been nearly 18 per cent decrease in cotton arrivals in markets of the state compared to last year. According to cotton officials, this year 6,920,488 quintal of cotton was brought to the markets till the end of February while this figure in the corresponding period last year was 8,540,108 quintal.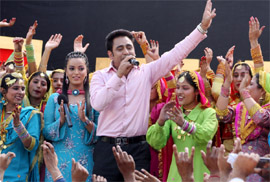 Sarabjeet Cheema, folk singer-turned-actor, performing along with the winners of a cultural dance contest organised by a private channel at DAV College in Bathinda on Sunday. Tribune photo: Kulbir Beera
Residents seek drive against encroachment
Sriganganagar/Abohar, March 8
The residents of Padampur recently urged the district administration to take immediate action against the persons, who had encroached upon the government land and were discharging all the waste into a canal that also feeds water to drinking reservoirs in the town as well as scores of villages.
Mansa DC told to stop 'atta-dal' cards distribution
Chandigarh, March 8
The Punjab Chief Electoral Officer today directed the Mohali Deputy Commissioner to send an immediate report on the non-transfer of officials from their home district besides directing the Patiala Deputy Commissioner to get hoardings removed.
Parents urged to educate girls
Ferozepur, March 8
Girls students who have excelled in various fields including academic, sports, and culture were honoured at a function organised to mark the Women's Day at the local Dev Samaj College for Women here today.
Congress forms panel
Mansa, March 8
The Congress has formed a committee which would prepare list of government officials found indulging in irregularities during polls and the report of the committee would be sent to the Election Commission of India, said Raninder Singh, general secretary of the Punjab Pradesh Congress Committee at a press conference here on Sunday.
New uniform likely for expectant cops
Chandigarh, March 8
Giving in to the repeated demand of designing something "more comfortable" for the pre-natal and post-natal period of women cops, the Bureau of Police Research and Development, Government of India, has recommended two designs of salwar-kameez for them.
Medical camp organised
Bathinda, March 8
The Arya Yuva Samaj-Punjab, Bathinda, organised a free medical camp on the occasion of the International Women's Day on the premises of RBDAV Senior Secondary Public School here today.