SAD-BJP govt to fall post polls: Raninder
Bathinda, April 9
The Congress candidate for the Bathinda Lok Sabha seat, Raninder Singh, today said that the Parkash Singh Badal led SAD-BJP combine government would fall soon after these elections.
Two hurt in brawl at police station
Rampura Phul, April 9
When the entire Rampura police was busy providing security to CM Parkash Singh Badal today, the police station became a place for settling scores between two rival groups. In the free for all, two persons sustained injuries and the injured also charged the assailants and snatched their chains.
14-yr-old boy devoured by stray dogs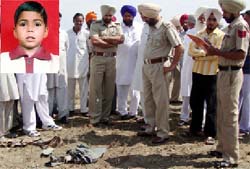 Moga, April 9
A 14-year-old child was devoured to death by stray dogs at village Samadh Bhai in Moga district on Wednesday. Horrified by the incident, the local residents called up the police, which took the mauled body of the child into custody and sent it for post-mortem.

Police investigating the incident of a 14-year old child (inset) devoured by stray dogs at village Samadh Bhai in Moga district on Wednesday. Tribune photo: Malkiat Singh

AC cylinder at BSNL tower explodes, one killed, two injured
Abohar, April 9
One person was killed and two others sustained serious injuries today afternoon when the cylinder of an air-conditioning unit at a BSNL tower exploded this afternoon at village Tahliwala Jattan, sources said.
Affiliated or not? Controversy still continues for local school
Bathinda, April 9
A fresh controversy brewed in Guru Harkrishan Public School today with parents questioning the school for admitting students without any affiliation. Sources said the school's affiliation to the CBSE expired in March this year. The management said they had held a meeting with the CBSE chairman in New Delhi and he had assured them of granting affiliation to the school soon.
Bickering on backburner
Jagmeet Brar, Rana Gurmeet share dais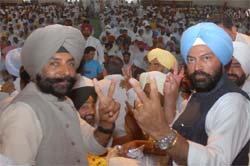 Guru Har Sahai (Ferozepur), April 9
Member of the Congress Central Working Committee Jagmeet Singh Brar who is fighting the Lok Sabha elections from Ferozepur has managed to win over all his main party rivals in the area who had shed their differences on the directions of the party high command to put up a collective fight to ensure victory.

Jagmeet Brar (left) and Rana Sodhi during a public rally at Guru Har Sahai in Ferozepur on Thursday. Photo by writer

Steps taken to cancel dual voting rights
Sriganganagar/Abohar, April 9
During a joint meeting chaired by the divisional commissioner Pritam Singh last evening, the Rajasthan and Punjab police officials , taking notice of a report appearing in these columns, the officials resolved to move for cancellation of dual votes.
CPI (ML) intensifies campaigning
Mansa, April 9
"CPI (ML) has entered the election fray to raise the basic problems of poor farmers and labourers," said CPI (ML) candidate from Bathinda, Bhagwant Singh Sammaon, while addressing a public meeting at different villages of Mansa today.
Diploma for local RJ aspirants
Bathinda, April 9
The Academy of Broadcasting, India's oldest and largest Radio Jockey training academy, has announced a new one-year diploma in Bathinda today for the benefit of the students wishing to enter the exciting and rewarding world of radio.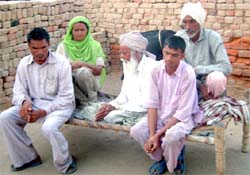 Quirk of fate
Disability stalks this ill-fated family
Jeeda (Bathinda), April 9
As many as seven members, including a woman, of what was once a family of landowners in this village are subsisting on what their neighbours or villagers offer. The woman is the only physically and mentally able member in the family.

The ill-fated members of the family sit on a cot at their residence in Jeeda village, 20 km from Bathinda, on Thursday. A Tribune photograph

Wheat procurement begins in Fazilka
Fazilka, April 9
B.S. Sudan, Commissioner Ferozepur, formally inaugurated procurement of wheat in the grain market of Fazilka today. The deputy commissioner of Ferozepur Megh Raj and SDM Fazilka Charandev Singh Maan also accompanied him. Commission Agents Association, Fazilka, president Om Parkash Setia, general secretary Roshan Lal Bhusari, Naresh Setia, Ashok Pujara, Sukhdarshan Aggarwal and officers of the government procurement agencies were also present.
Moisture in wheat gives tough time to procurement agencies
Ferozepur, April 9
Procurement agencies are facing difficulty in the purchase of wheat as the moisture content in the produce being brought to the purchase centres was more than the specified norms. Commissioner B.S. Sudan, who along with DC Megh Raj, SDMs and representatives of various government procurements agencies, after surprise checking of grain markets, said that heavy rainfall has affected the produce by increasing moisture content in it.
Farmers throng Kisan Mela in Mansa
Mansa, April 9
A district-level Kisan Mela was organised today at the office of Chief Agriculture Officer, Mansa. The DC Kumar Rahul inaugurated this mela and Dr Gurdyal Singh, joint director of agriculture department presided over the function.
Sriganganagar Bar Assn members stage protest
Sriganganagar/Abohar, April 9
Members of the Bar Association today suspended work and staged a sit-in shouting slogans in the court complex at Sriganganagar over the refusal of a senior judicial officer to endorse their idea to suspend work as a mark of respect to a former president, who had died in the US, sources said.