Aged vote in large numbers in border areas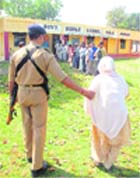 Bela Jamana, April 16
Braving a hostile terrain and scorching sun, aged people came out in large numbers to vote in this village along the border today. Undeterred by focus on young voters in the 15th Lok Sabha elections, the aged electorate came out in large numbers, changed couple of vehicles, walked barefoot to exercise their franchise.



A security personnel helps an old woman reach her polling booth in Bela Jamana border village on Thursday. Tribune photo: Anand Sharma
Urban elite stay away
Jammu, April 16
Urban elite as well as a major chunk of intelligentsia stayed away from casting votes. However, the otherwise bustling roads of the city were relatively calm and vacant.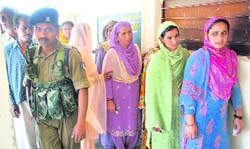 Voters await their turn outside a polling booth at Sidhra (Jammu) on Thursday. Photo: Inderjeet Singh
Barring Sikhs, migrants vote in good numbers
Jammu, April 16
Migrants settled here turned out in good numbers to cast their votes. There was a steady flow of migrant voters in polling booths.
Party offices buzz with activity
Srinagar, April 16
As scores of vehicles crisscross Gupkar Road, Srinagar's most known address which houses the state's VIPs, with flags of different political parties atop them, the buzz for the parliamentary elections, which are still two weeks away, is unmistakable in the summer capital.
Mufti launches poll campaign in Anantnag
Srinagar, April 16
Former Chief Minister Mufti Mohammad Sayeed has said that the fast emergence of the PDP as a strong political force is the peoples' endorsement of the party's agenda and vision on the state.
Use of EVMs: Blind voters cry foul
Jammu, April 16
Blind voters in the region alleged that Braille-enabled EVMs have proved irrelevant as they were not educated how to handle these machines to exercise their right to franchise.
Poll observer holds meeting
Udhampur, April 16
Election observer for the Assembly segments of Udhampur and Reasi districts K.S.S.V.P. Reddy at a meeting with 70 micro-observers deployed for the Lok Sabha election duty in this district asked them to observe the polling process closely till the close of the polling on April 23 and submit a detailed report to him.
Planning to be facilitated at block level: Rather
Jammu, April 16
Minister for Finance, Law and Parliamentary Affairs, Abdul Rahim Rather has said statistical database and inputs of the Economics and Statistics Department are imperative for better planning in the state.
Mock drill creates panic at airport
Jammu, April 16
Panic gripped the local airport as news of a militant gunned down by the Air Force inside the airport premises was telecast on a Hindi news channel today.
Taliban fear may hit tourism
Srinagar, April 16
People associated with the tourism sector in the state have taken some of the recent reports in media that Taliban have sneaked into the Kashmir valley's frontier district of Kupwara with a pinch of salt. This they believe is being done to 'sabotage' the impending tourist season.
JU holds lecture on Ambedkar
Jammu, April 16
The Ambedkar Studies Centre, Jammu University, organised a lecture on 'Dr. Ambedkar as a Sociologist: Beyond Reductionism' here yesterday. The lecture was delivered by Prof PG Jogdand, a scholar of the Department of Sociology, University of Mumbai.
Devika Baisakhi mela ends
Udhampur, April 16
Over 70,000 visitors of all faiths witnessed the three-day historic Baisakhi mela, which concluded here last evening.
Masked gunmen shoot woman
Srinagar, April 16
Masked gunmen shot dead a 60-year-old woman in a village of Shopian district while her son received bullet injuries, the police said today.
2 labourers charred to death
Srinagar, April 16
Two persons were charred to death when a fire broke out in a house at Dewan Bagh in Baramulla, the police said today.