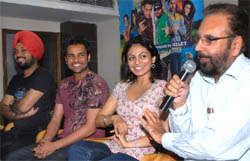 Bathinda: The team of a Punjabi movie, Munde UK De, on Friday visited the city for promoting the flick to be released on May 8. From right: director of the movie Manmohan Singh, actress Neeru Bajwa, actor-cum-singer Amrinder Gill and actor Gurpreet Singh Ghuggi during a press meet in a local hotel. Tribune photo: Malkiat Singh
Congress accuses CM's wife of violating poll code
Bathinda, May 1
The opposition Congress today accused Surinder Kaur Badal, wife of Chief Minister Parkash Singh Badal, of violating the election model code by participating in a meeting of government school teachers here.
Cong sponsored Fazilka bandh evokes no response
Fazilka, May 1
A bandh called by Congress to protest against the 'breakdown' in law and order situation and death of lecturer Anil Nagpal in a road mishap failed to evoke response. Shops remained opened and the protest march taken out by the Congress activists also courted a controversy.
Wave in Congress favour, claims Capt
Dharamkot (Moga), May 1
Former chief minister Captain Amarinder Singh, while launching a frontal attack on BJP-led NDA, of which Punjab's ruling SAD party is an alliance partner, has alleged that they were responsible for disturbing communal harmony of the nation during a public rally in favour of the party candidate from Faridkot Sukhwinder Singh Danny here, today.
SAD is committed to saving ecology, says Harsimrat
Mansa, May 1
SAD candidate from Bathinda Harsimrat Kaur Badal today said that SAD was committed to fighting for the conservation of environment. She said that the party would treat this issue as one of vital importance for the survival of planet earth.
Mulajim Front to support SAD
Bathinda, May 1
On May Day, the Mulajim Front, Punjab, an alliance of various employees' organisations, held a state-level show of strength here today. Deputy CM Sukhbir Singh Badal was the chief guest on the occasion.
On May Day, workers say they will boycott polls
Bathinda, May 1
Nearly 450 voters of Khemuana village here have decided against exercising their right to franchise in the ensuing Lok Sabha elections. In protest, about 250 houses in the village have put up black flags atop.
Contaminated canal water
'Politicians playing with people's health'
Sriganganagar/Abohar, May 1
"None of the politicians is trustworthy. They will promise you the moon but do not have the guts to deal with the chronic problem of flow of highly contaminated canal water with an iron hand," said noted environmentalist Sant Balbir Singh Seechewal, at Gurdwara Shri Singh Sabha in Suratgarh. A warm welcome was accorded as the Jal Chetna Yatra led by him entered Sriganganagar.
BIET to start courses in Mansa
Bathinda, May 1
The Bharat Institute of Engineering and Technology (BIET), approved by the AICTE and the Ministry of HRD, is starting degree courses in engineering, management and pharmacy beginning from July this year at Sardulgarh in Mansa.
Police help defuse communal tension
Bathinda, May 1
Timely intervention of police today defused tension that arose among two communities here today.
Docs flay 'anomalies' in pay panel report
Bathinda, May 1
The PCMS Specialist Doctors' Association, Punjab, today condemned the Fifth Pay Commission recommendations pointing out that the Punjab government doctors will now be paid less than their Central government counterpart.
Sutlej farmers feel rendered faceless
Moga/Ferozepur, May 1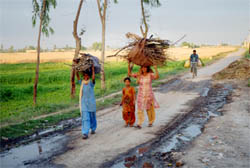 Farmers living by the side of Sutlej river in Moga and Ferozepur districts feel that they have been rendered faceless in the Lok Sabha elections. They say that their demands and issues have been pushed to the backburner by the political parties and candidates who are more concerned about the national and state issues, which by no means are giving a healing touch to their basic problems at the ground level.
Villagers bringing firewood passing through waterlogged road near Nihalewala village in Ferozepur district. Tribune photo: Malkiat Singh
Woman's body found floating in canal
Bathinda, May 1
Mystery shrouds the killing of an unidentified woman, whose semi-nude body was found floating in Sirhind canal near village Madi of this district this morning.
Pak incident condemned
Bathinda, May 1
The Punjab Aggarwal Sabha today strongly condemned the atrocities being committed by the Taliban on Sikh minority community in Pakistan.