SAD, Cong heading for photo finish
Bathinda, May 3
With only three days left for polling for the high-profile Bathinda Lok Sabha seat, Chief Minister Parkash Singh Badal and his son and deputy CM Sukhbir Singh Badal are burning midnight oil for the success of Harsimrat Kaur Badal as their family's prestige is at stake.
People looking for change to cleanse politics: Ramoowalia
Q: In what way is your party different from the other parties?
A: The conventional parties in the state Congress and Shiromani Akali Dal have promoted corruption, nepotism, criminalisation and commercialisation in politics, which has degraded the spirit of democracy. We are opposed to all these things and are trying to bring in reforms and cleanse the political system.
Lok Sabha polls
Compensation to border farmers now a poll issue
Fazilka, May 3
The non-payment of compensation to farmers having lands across the barbed-wire fencing along the zero line is emerging as a important poll issue in the ensuing Lok Sabha polls.
Cong worker attacked, seven others arrested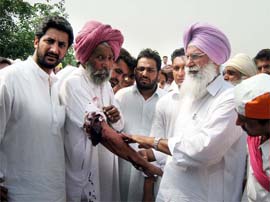 Bathinda/Mansa, May 3
Just four days before the Lok Sabha polls in this constituency, Congress leaders today accused SAD (B) workers of assaulting their party men. They also accused the Mansa police for rounding up seven of their activists to sabotage their 'massive' rally under SAD pressure.

Ajit Inder Singh Mofar, MLA Sardulgarh, showing the injuries of Zile Singh, a party worker, allegedly assaulted by SAD (B) activists at village Adam Ke in Mansa. Tribune photo: Malkiat SIngh
Rally advocates vote for none!
Abohar, May 3
"Vote da haqdar kaun, koyee nahin" and "lotu partiyan nu bhajao, kise nu vote na pao" such slogans rented the air as scores of motorcyclists passed through the main roads of the sub-divisional town on Sunday braving scorching heat.
Third Front will form govt at Centre, says CPI
Bathinda/Budhlada, May 3
"Lal Krishan Advani and Manmohan Singh, both should now come out of the fool's paradise and accept the reality that the Third Front will not let them get the chair of the Prime Minister of India," said Amarjeet Kaur, national secretary of the Communist Party of India, today while addressing a poll rally at Budhlada for Hardev Singh Arshi, the CPI candidate for Bathinda seat.
Taxi men using poll buzz full throttle
Bathinda, May 3
A large number of taxi and private vehicle drivers are making hay in the ongoing Lok Sabha poll campaigning. They are sporting saffron flags atop their vehicles to show that the vehicles are engaged by the ruling Shiromani Akali Dal (SAD) party, but virtually they carry passengers from one destination to another without the fear of the police or the transport authorities.
'Procurement smooth despite hurdles'
Bathinda, May 3
Upbeat over the hassle-free procurement of wheat during the current season that has coincided with the Lok Sabha elections, Deputy Chief Minister Sukhbir Singh Badal has said the Punjab government with meticulous planning and month long extensive procurement operations, has thwarted the "ulterior designs" of the Congress-led UPA government to create hurdles in the procurement process.
Seminar held at Faridkot
Demand for deeper study on uranium
Bathinda, May 3
Concerned over the uranium effect among some children in Faridkot, a demand for deeper study to detect uranium level among the people of Punjab and determine the source of the heavy metal was made in a seminar at Faridkot today.
Fazilka prime land auction issue hogging limelight
Fazilka, May 3
As the LS polling date is approaching, the issues of auction of 53 acre mortgaged municipal land and transfer of 43 kanal prime land to PUDA for the construction of mini-secretariat in Fazilka has started boiling.
Fire wreaks havoc, destroys over 50 Dalit houses
Abohar, May 3
As many as 51 houses in the Dalit colony developed under the Indira Awas Yojna at the village Khatwan of this sub-division were affected by the fire that broke out allegedly due to burning of stubble by some farmers late last night. However, no loss of life was reported.

Left: A picture of the raging flames that engulfed houses; A house that was destroyed by the fire. Photo by writer
Grades to judge how students fare
Bathinda, May 3
The Punjab School Education Board (PSEB) is all set to introduce a grading system for Class X from 2011. Board examinations will finally come without the pass or fail tag for students.
'Govt failed to provide potable water'
Abohar, May 3
For the last two years the present government had not been able to provide even potable water to about 1.5 lakh citizens, said Sat Pal Khariwal chairman of the Consumer Movement, while addressing first meeting of the awareness campaign in Nai Abadi here on Friday.