PUNJAB
HARYANA
JAMMU & KASHMIR
HIMACHAL
REGIONAL BRIEFS
NATION
OPINIONS
LETTERS
BUSINESS
SPORTS
WORLD
Every Wednesday & Saturday
Shahpur Kandi project a distant dream for farmers
Jammu, May 5
Despite Union Minister for Water Resources Saif-ud-din Soz declaring the Shahpur Kandi barrage project over the Ravi as a national project and an understanding between former Jammu and Kashmir Chief Minister Ghulam Nabi Azad and former Punjab Chief Minister Amarinder Singh, the barrage remains a distant dream for farmers in the Kandi belt of the Jammu region.
Three principals for 3 students
Jammu, May 5
Three principals for just three students! Sounds unbelievable, but this is the typical instance of the wastage of human resources and the sordid state of affairs at Government Migrant School, Satwari, here, where the teachers outnumber the students.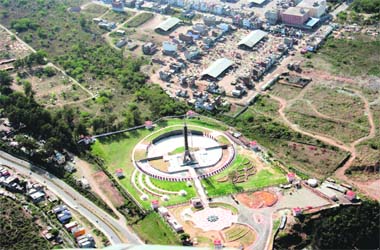 An arial view of the Army Martyrs Memorial, near the Bahu Fort, in Jammu. Photo: Inderjeet Singh
Four accused still at large
May 2, 2009
Samba residents rue encroachments
April 29, 2009
Son wants CBI probe
April 25, 2009
Residents rue rise in prices of essential items
April 22, 2009
Jammu areas face water shortage
April 18, 2009
Varsity students exposed to health risks
April 15, 2009
No check on illegal private buses
April 11, 2009
State needs juvenile homes
April 8, 2009
Unplanned road network a death trap
April 4, 2009
Power theft rampant in Jammu
April 1, 2009