PUNJAB
HARYANA
JAMMU & KASHMIR
HIMACHAL
REGIONAL BRIEFS
NATION
OPINIONS
LETTERS
BUSINESS
SPORTS
WORLD
Every Wednesday & Saturday
Samba residents rue encroachments
Samba, April 28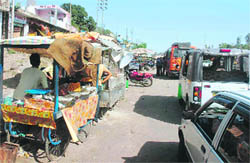 Commuters and pedestrians in this frontier district are a harried lot as kiosk owners selling food items on the roadside have allegedly encroached upon almost half of the national highway in the area.
Kiosk owners sell food items on the roadside in Samba. Tribune photo: Anand Sharma
Poor implementation of health schemes
Officials, NGOs trade charges
Srinagar, April 28
While national-level programmes like the National Rural Health Mission (NRHM) and the National Programme for Control of Blindness (NPCB) have tremendously benefited people across the country, the situation is bad in the Kashmir valley.
Vendors sell eatables at filthy places
Jammu, April 28
The roadside business of selling juice, locally manufactured fresh lime soda and cut fruits has started picking up with the rising mercury in Jammu. As residents are on the lookout for ways to beat the heat, vendors in the city are making the most of the scorching summer and doing a brisk business.
Son wants CBI probe
April 25, 2009
Jammu areas face water shortage
April 18, 2009
Varsity students exposed to health risks
April 15, 2009
No check on illegal private buses
April 11, 2009
State needs juvenile homes
April 8, 2009
Unplanned road network a death trap
April 4, 2009
Power theft rampant in Jammu
April 1, 2009
Students heave sigh of relief
March 28, 2009
Dingy surroundings greet passengers at railway station
March 25, 2009
Fear grips residents as new route incomplete
March 21, 2009
An apology for a bus stand
March 18, 2009
Traffic snarls disrupt life in city
March 14, 2009