PUNJAB
HARYANA
JAMMU & KASHMIR
HIMACHAL
REGIONAL BRIEFS
NATION
OPINIONS
LETTERS
BUSINESS
SPORTS
WORLD
Talk of early poll unnerves Oppn
Chandigarh , June 11
Even before politicians in Haryana have overcome the Lok Sabha election fatigue, the Assembly elections are staring them in the face. Though the Assembly elections are due in February next, reports that the Congress may like to go for early elections to cash in on its success in the parliamentary polls have unnerved the Opposition.
IPSC team scales Deo Tibba peak
Karnal, June 11
A 30-member All-India IPSC Mountaineering Expedition team, comprising students of six Sainik Schools, have reached another milestone by scaling the craggy and snow-clad Deo Tibba peak, located at an altitude of 6,001 m in the Manali region of Himachal Pradesh.


'Incentive' for risking people's lives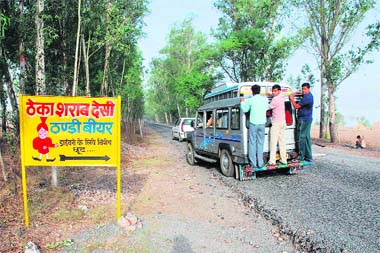 In violation of the norms, a vend in Gangatehri village on the Jind road offers liquor at a discount to drivers. Tribune photo: Ravi Kumar
Water woes of Gurgaon residents
June 9, 2009
Factories ill-equipped to tackle fires
June 5, 2009
Fatehabad police leads with 210 arrests
June 2, 2009
Congress to put up united front
May 29, 2009
State to launch enrolment drive in schools
May 26, 2009
Six civil hospitals to be upgraded
May 22, 2009
Infighting costs Cong dear in Hisar
May 19, 2009
MLAs eye ministerial berth
May 15, 2009
BSP in no mood to relax
May 12, 2009
BSP in no mood to relax
May 12, 2009
Rural domestic consumers in for better times
May 8, 2009