Leopards getting desperate for food
SMA Kazmi
Tribune News Service
Dehradun, July 2
As many as 19 persons, all residing within a radius of 20 km, were injured when attacked by a starving leapard last evening. The leopard was finally shot dead.
While the population of tigers in the country is fast dwindling, the fate of leopards, also from the cat family, is even worse. While leopards are being killed by poachers, they have started attacking humans.The frequency of these attacks has increased manifold in the recent past.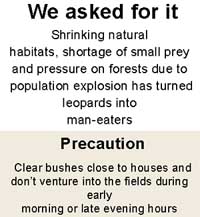 Leopards have been attacking residents, including children, not only in the periphery of hill villages but have now come down to bigger cities like Dehradun in the foothills in search of prey.
Desperate, the leopards have begun to attack children and women in broad daylight.
More than 200 children and women have fallen prey to leopards and 786 injured in the past eight years, show government records.
In addition, the wild cats have devoured more than 4,000 cattle- head. More than 50 man-eaters have been killed by hunters requisitioned by the wildlife department in the past eight years.
Desperate for food, most cats turn to domestic animals and end up as man-eaters.
Dr SP Goyal of the Wildlife Institute of India (WII) who has carried out a study on "Man-leopard conflict" in Pauri Garhwal, says:
"Exhaustion of natural prey in the hills has forced the animals to attack humans and domestic cattle."
Poaching and hunting is the main reason for shortage of prey and the situation has worsened. Pauri Garhwal district, which has the highest concentration of ex-servicemen with more than 16,000 licensed guns, is the worst affected.
Nineteen leopards have so far been declared man-eaters and seven of them killed by hunters of the wildlife department. Shrikant Chandola, chief wildlife warden, Uttarakhand, says disturbance of natural habitats of leopards, shortage of small prey and pressure on forests due to population explosion has turned the leopards into man eaters.
Uttarakhand with more than 60 per cent of its land mass under forest, six national parks and six wildlife sanctuaries and the largest population of leopards in the country has become unsafe for the leopards.
The state saw a rapid increase in the number of leopards over the years.
There were only 690 leopards in 1984. the number went up to 1,961 in 2001, to 2,090 in 2003 and 2,100 in 2005. In 2008, their numberstood at 2,343.
The theory that only old and maimed leopards unable to catch prey turn into man-eaters has become obsolete. Most man-eaters killed or caught have been young.
The search for food has forced these animals to enter towns and cities.
There have been more than a dozen incidents in Dehradun alone in the past three years when leopards or their cubs have entered city limits from nearby forests.
The WII study has come out with vital suggestions for the people living in the vicinity of forests. These are special precaution for houses in isolated areas, clearing of bushes close to houses and discouraging people from venturing out in the fields during early morning and evening hours.