This village is in a world of its own
Miragpur residents, followers of 17th century Baba Fakira Dass, abstain from tobacco, alcohol and meat. They don't sell milk, love their weapons and shun wearing blue clothes
Akash Ghai
Tribune News Service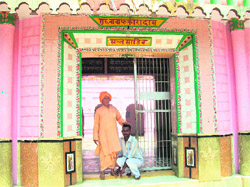 A youth seeks the blessings of the village temple priest. A Tribune photograph

Miragpur, July 28
Believe it or not, but in this modern era there lies a village whose natives abstain from tobacco, alcohol, drugs and meat. Nobody, from young children to the aged, of

Miragpur village that has a population of around 6,000, touches as many as 24 items.These include the onion, garlic, cabbage and eggs.

Even blue clothes are a taboo for these villagers who follow the teachings of the 17th century Baba Fakira Dass. Miragpur, with a population mainly comprising Gujjars, located on the Uttarakhand-Uttar Pradesh border, about 30 km from Roorkee and 7 km from Deoband, is well-known for its Darul Uloom.

Villagers claim if any of them touches the restricted items, he/she develops rashes which can be treated only by seeking forgiveness at either of the two temples of the Baba set up in the village.

Miragpur is connected with Deoband and Purkazi by road. A visit to this unique village, spread over 6,000 bighas, reveals that the villagers, most of whom are agriculturists, are well-off and lead a good life.

"This is due to the blessings of our revered Guru who visited the place in 1610 during the time of Mughal emperor Jahangir and set up a temple here," claims village head Shosheen. It is said Baba Fakira Dass, a disciple of Guru Nanak Dev, had taken a pledge from the villagers that they would stay away from the prohibited items.

"Since then, our generations have kept that promise," said Bijan Kumar, Vinod Kumar and Mahi Pal Singh, adding that guests and married daughters were exempted from the ban.

Unlike other rural folk in the country, nobody in Miragpur sells milk. "This is a tradition here. We don't sell milk", said Bijan. Also, the village has more than 500 arm licences.

"We love weapons and almost every family has these here," claimed Vinod Kumar. Interestingly, the village was notorious for producing criminals till the end of the 19th century. It was said even the police then did not dare to enter the village.

However, the villagers, denied the same, saying it was just mischief on the part of nearby villagers who wanted to malign the Gujjar community. "Our love for weapons does not mean that we are criminals,"they argued. Miragpur is also home to some Muslim and Dalit families, who religiously follow the rich rituals of the village.

Now, with two schools, an inter college with a computer lab and a veterinary hospital, the village is looking to keep pace with world outside. "We urgently need a standard health centre and a branch of a nationalised bank here," said the villagers.