PUNJAB
HARYANA
JAMMU & KASHMIR
HIMACHAL
REGIONAL BRIEFS
NATION
OPINIONS
LETTERS
BUSINESS
SPORTS
WORLD
Sunday, August 16, 2009, Chandigarh, India
Updated at 3:00 am (IST)

PM's resolve for growth with social justice
A second Green Revolution l Restoring 9 pc growth l Communal amity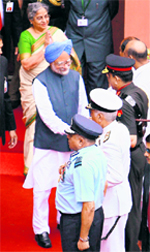 New Delhi, August 15
Unveiling the ruling coalition's agenda for its fresh five-year term, the Prime Minister today declared his resolve to launch another 'Green Revolution' and restore the economic growth rate to nine per cent while stressing that the UPA had received an overwhelming mandate in the Lok Sabha elections to start a new era of cooperation and harmony in the country.

Prime Minister Manmohan Singh, with his wife Gursharan Kaur, shakes hands with Services' chiefs as he prepares to leave after attending the Independence Day function at the Red Fort in New Delhi on Saturday. — PTI

Zero tolerance for terror, Naxalism

Manmohanspeak
CAST YOUR VOTE
Should schools be closed to prevent the spread of swine flu?

EDUCATION
JOBS & CAREERS
HEALTH & FITNESS
SCIENCE & TECHNOLOGY
REAL ESTATE
SPORTS
TRIBUNE CLASSIFIEDS

A Tribune Exclusive
Hooda's parting gift: Plots for MPs, MLAs
Chandigarh, August 15
A day before the Cabinet is likely to recommend dissolution of the Haryana Vidhan Sabha, Chief Minister Bhupinder Singh Hooda is ready with his parting gift for 80-odd MPs and MLAs — a 14-marla plot each in Sector 6 of Mansa Devi Complex.
Vasundhra snubs Rajnath, defies party summons
New Delhi, August 15
A defiant Vasundhra Raje cocked a snook at the BJP high command, defying the party summons and staying put in Jaipur, when BJP President Rajnath Singh wanted her to come immediately and report to him today in Delhi.


Nation page: Fix responsibility for defeat from top, says Raje
NDA 60 Glorious Years
1857 The First Challenge
E - Revolution 2005:
A Two-day IT conclave
Assembly Elections - 2005
Turbans
Chandigarh is 50
125 Years of The Tribune
India: The Tasks Ahead
India at Sixty
A Tribune Supplement
EARLIER FEATURES
On Sundays
On Saturdays
Sugar prices skyrocket to Rs 35 a kg
Chandigarh, August 15
Sugar prices across the country have hit the roof. Retail price of sugar has touched an all-time high of Rs 35 per kg since yesterday. In the past one month, the sugar prices have gone up by Rs 8 a kg. - from Rs 27 a kg to Rs 34-35 a kg. Even the wholesale prices have gone up from Rs 25 a kg in July to Rs 32 a kg.

Gas Row


MPs bat for either of Ambani brothers in Parliament
New Delhi, August 15
The Parliament witnessed an unprecedented spectacle in its budget session ended last week when members cutting across party lines took sides for and against the warring Ambani brothers in their dispute over sharing the gas extracted from Krishna-Godavari basin.
Candlelight Vigil
Call to defeat designs of terrorists
Attari, August 15
People of India and Pakistan should defeat the evil designs in the subcontinent and usher in peace and prosperity in South-East Asia.
President focuses on swine flu, drought
August 15, 2009

Cabinet's bitter dose for Azad over H1N1
August 14, 2009

H1N1 claims five more
August 13, 2009
Water, power woes deepen
August 12, 2009
Three more deaths as govt sketches strategy
August 11, 2009
NRI, teacher new fatalities
August 10, 2009
Finally, drought reality sinks in
August 9, 2009
Govt wakes up on food front
August 8, 2009
Rush for test, only if you must: Govt
August 7, 2009
Panic in Pune as 3 more test +ve
August 6, 2009