PUNJAB
HARYANA
JAMMU & KASHMIR
HIMACHAL
REGIONAL BRIEFS
NATION
OPINIONS
LETTERS
BUSINESS
SPORTS
WORLD
Wednesday, October 7, 2009, Chandigarh, India
Updated at 3:00 am (IST)

Defiant Maya earns SC rap over statues
Court says Centre free to act if stay order
flouted again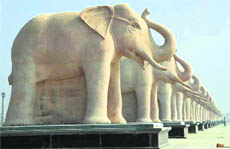 New Delhi, October 6
The Supreme Court today said the Centre would be free to take action against the Uttar Pradesh government if the state continued to flout its stay on the construction of memorials in Lucknow, leaving much scope for interpretation that it could mean imposition of President's Rule as well.
Finally, work stops at memorial sites
Lucknow, October 6
Following the Supreme Court's initiation of contempt proceedings against Uttar Pradesh Chief Secretary Atul Kumar Gupta today, work at various memorials sites came to a grinding halt, the second time within a month.
CAST YOUR VOTE
Should capitation fee be abolished?

EDUCATION
JOBS & CAREERS
HEALTH & FITNESS
SCIENCE & TECHNOLOGY
REAL ESTATE
SPORTS
Maoists behead abducted J'khand cop
No demand for swap of any prisoners: PC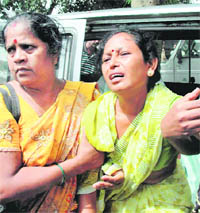 Patna, October 6
After kidnapping him five days ago the Maoist guerrillas finally killed Jharkhand police intelligence officer Francis Induwar, whose body with his head severed was found on the Ranchi-Jamshedpur road today morning.


In shock: The grieving wife of the slain cop in Ranchi on Tuesday. — PTI

IAF will have to wait to 'shoot back' at Naxals
New Delhi, October 6
The Defence Ministry is planning to lay down a set of rules of engagement (ROE) for the Indian Air Force before it finalises a proposal to allow the latter to take an action in self-defence against the Naxals.
TODAY'S SPECIALS
JOBS & CAREERS

HIMACHAL PLUS

J&K PLUS

JALANDHAR PLUS

AMRITSAR PLUS

HEALTH & FITNESS

NDA 60 Glorious Years
1857 The First Challenge
E - Revolution 2005:
A Two-day IT conclave
Assembly Elections - 2005
Turbans
Chandigarh is 50
125 Years of The Tribune
India: The Tasks Ahead
India at Sixty
A Tribune Supplement
EARLIER FEATURES
On Sundays
On Saturdays
India can be global leader in food processing: PM
New Delhi, October 6
Describing it as a sunrise industry, Prime Minister Manmohan Singh today said the food processing sector has the potential to dramatically improve rural livelihood opportunities and employment, bridge the rural-urban divide and improve farming methods and practices.
Go-ahead to industry for free use of farm land in Punjab
Chandigarh, October 6
Reiterating its commitment to giving industry a level playing field, the Punjab Government has decided to allow the free use of agricultural land for setting up new industrial units besides promising uninterrupted power supply to all IT units.


Krishna breaches add to flood woes in AP
Relief work hit; many villages inundated after banks give way
Hyderabad, October 6
The villagers along the Andhra coast are no strangers to floods. The vulnerability of their location has made them more resolute over years. But, the current flood fury is unprecedented in its scale and impact.
Dolphin is national aquatic animal
October 6, 2009
Forest gives way to leisure park
October 5, 2009
UPA succumbs to allies' pressure on madrasa law
October 4, 2009
After drought, rain threat
October 3, 2009
IAF chief rules out repeat of 1962
October 2, 2009
AI stir off, but wait for flights to get normal
October 1, 2009
No new shrines on public land: SC
September 30, 2009
Talks fail, govt steps in to resolve AI crisis
September 29, 2009
Manmohan returns with major gains
September 28, 2009
Shun terror as state policy, PM tells Pak
September 27, 2009