Farmers protest over cane MSP
Roorkee, November 4
The new sugarcane policy by the central government has created a ruckus among cane growers in the area here.
Neglected, councillors protest against mela admn
Haridwar, November 4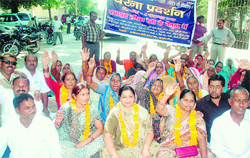 After the mela administration, municipal ward members too have joined the bandwagon and alleged that Maha Kumbh developmental works are not being carried on a uniform basis in the mela area.




Ward members of the Haridwar Municipal Committee protest in front of the Kumbh Mela office in Haridwar. Tribune photo: Rameshwar Gaud
Women workers stage dharna
Dehradun, November 4
Under the banner of the Mata Shishu Evam Parivar Kalyan Mahila Karamchari Sangh, scores of anganwadi workers and women health supervisors held a demonstration outside the Secretariat demanding immediate fulfilment of their long-pending demands.
Drive to make cops efficient in riot control
Nainital, November 4
Stating that the Kaladhungi incident was the worst case in his life, Nainital Senior Superintendent of Police (SSP) MS Bangyal has stated that a special drive has been launched in Nainital district to make police personnel efficient in riot control.
Rail Link with Tanakpur
Bageshwar residents to march to Delhi
Nainital, November 4
Residents of Bageshwar have started a march to the national Capital seeking rail connectivity between Tanakpur and Bageshwar. The agitators plan to sit on a fast at Jantar Mantar in Delhi from November 9 to press their demand.
Maha Kumbh: ID proof must for visitors
Haridwar, November 4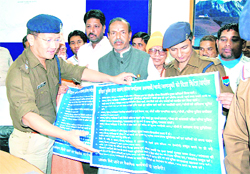 Visitors to the Maha Kumbh, slated to begin in January next year, will have to carry some proof of identity. Senior Superintendent of Police (SSP) Sanjay Gunjiyal has given directions to owners of hotels, dharamshalas, ashrams, guest and rest houses regarding identity-proof confirmation during a meeting of these establishments in the mela control room late in the evening.
Haridwar SSP Sanjay Gunjiyal with ASP Arun Mohan Joshi dsplay a directions list for Maha Kumbh on Wednesday. Tribune photo: Rameshwar Gaud
CM promises conducive environment to multinationals
Dehradun, November 4
Chief Minister Ramesh Pokhriyal Nishank today said the government was committed in providing conducive environment to multinational companies keen to set up units in the state.
Students show creative skill in science expo
Dehradun, November 4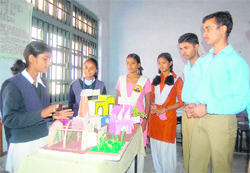 Providing a platform for students to showcase their creative abilities, a three-day district-level science exhibition began on the premises of Government Girls Inter-College (GGIC) here today.




A student explains her model at a science exhibition at Government Girls School, Rajpur Road, Dehradun, on Wednesday. Tribune photo: Anil P Rawat
Soon, action against illegal meat shops
Haridwar, November 4
After receiving several complaints from various quarters of illegal mutton shops operating in sub-urban Jwalapur, the administration is soon to launch a verification drive in this regard. Soon, these shops, which are running without holding a licence, will be earmarked and an appropriate action will be taken against them, probably be shut down.
Haldwani sub-jail owes shopkeepers Rs 14 lakh
Nainital, November 4
The jail authorities at the Haldwani sub-jail have a peculiar problem at hand. The problem does not pertain to managing prisoners or rowdy behaviour on their part, but of feeding them.
Woman commits suicide
Dehradun, November 4
Twentyeight-year-old wife of a labourer committed suicide by hanging herself from the ceiling fan with a dupatta at her Shivaji Nagar residence here this morning.
Workshop promotes self-employment
Dehradun November 4
The IBS Dehradun, a constituent of ICFAI University, Dehradun, organised a workshop on entrepreneurship here, today. Raising awareness of self-employment as a career option among students and how to begin a business were the two main objectives of the workshop.