PUNJAB
HARYANA
JAMMU & KASHMIR
HIMACHAL
REGIONAL BRIEFS
NATION
OPINIONS
LETTERS
BUSINESS
SPORTS
WORLD
Saturday, December 5, 2009, Chandigarh, India
Updated at 3:00 am (IST)

40 die in Pak mosque blast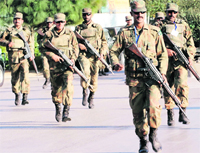 At least 40 persons were killed on Friday when suicide bombers stormed a mosque, frequented by military officers and jawans, in the garrison town of Rawalpindi and fired indiscriminately on worshippers and detonated explosives.
Pakistani soldiers take up position outside the besieged mosque in Rawalpindi on Friday. — AFP
CAST YOUR VOTE
Has the level of security improved a year after the 26/11 terrorist attack?

EDUCATION
JOBS & CAREERS
HEALTH & FITNESS
SCIENCE & TECHNOLOGY
REAL ESTATE
SPORTS
US: Al-Qaida helping Lashkar against India
The US Defence Secretary Robert M. Gates says the Al-Qaida is supporting Lashkar-e-Toiba in a bid to provoke a war between India and Pakistan - an effort, he believes, is aimed at destabilising Pakistan and gaining access to its nuclear arsenal. Testifying before the Senate Foreign Relations Committee on Thursday, Gates said, "Al-Qaida is providing them with targeting information and helping them in their plotting in India - clearly with the idea of provoking a conflict between India and Pakistan that would destabilise Pakistan." India believes LeT was behind the attacks in Mumbai last November.
Rajkhowa surrenders; in custody of Assam cops
Refuses to give up demand for sovereignty; talks doubtful
Guwahati, December 4
Two days after he was reportedly detained in Bangladesh, 'chairman' of the banned United Liberation Front of Assam (ULFA) and one of the most-wanted insurgent leaders Arabinda Rajkhowa surrendered to the Indian authorities at Dawki outpost along the Indo-Bangla border in Meghalaya early this morning.

Dialogue: Govt to wait till Jan

Cops' leave cancelled fearing ULFA strike
Advt
NDA 60 Glorious Years
1857 The First Challenge
E - Revolution 2005:
A Two-day IT conclave
Assembly Elections - 2005
Turbans
Chandigarh is 50
125 Years of The Tribune
India: The Tasks Ahead
India at Sixty
A Tribune Supplement
EARLIER FEATURES
On Sundays
On Saturdays
Curfew in Ludhiana after mob fury
Ludhiana, December 4
Curfew was clamped in five areas dominated by migrants in the city after they went on the rampage on the Ludhiana-Delhi National Highway-I. The mob torched several vehicles, blocked the highway, stopped trains and held passengers and residents to ransom to protest against police inaction against members of a "bikers' gang" (robbers on bikes).
Principal booked for obscenity
Bhiwani, December 4
The police today booked the principal and a teacher of Government Senior Secondary School, Bawani Khera, in this district on the charge of indulging in obscene behaviour with girl students under Sections 363, 366 and 509, IPC.
Judges' Appointment
SC stays CIC order
New Delhi, December 4
Providing itself a major relief, perhaps the first of its kind, the Supreme Court today stayed the Central Information Commission's (CIC) order for public disclosure of complete correspondence, including file notings, on the recent appointment of three Judges to the apex court. Acknowledging the importance of the case, a Bench comprising Justices B Sudershan Reddy and Deepak Verma said it would "meticulously" examine the Constitutional issues involved and dispose of the matter "as quickly as possible".
Won't accept binding carbon cuts: Ramesh
December 4, 2009

ULFA chief held in B'desh
December 3, 2009

Obama calls up PM, discusses Af-Pak
December 2, 2009

Question Hour cut short as MPs play truant
December 1, 2009
Reprocessing deal likely in 10 days
November 30, 2009
PM turns the heat on developed nations
November 29, 2009
China boost to Pak military troubles India
November 28, 2009
Parliament resolves to defeat terrorism
November 27, 2009
Won't rest till attackers are punished, says PM
November 26, 2009
Vajpayee, Advani, Joshi indicted
November 25, 2009