PUNJAB
HARYANA
JAMMU & KASHMIR
HIMACHAL
REGIONAL BRIEFS
NATION
OPINIONS
LETTERS
BUSINESS
SPORTS
WORLD
Friday, January 1, 2010, Chandigarh, India
Updated at 3:00 am (IST)

CBI gets sanction to prosecute Sajjan
PC keeps his promise of action in the case


New Delhi, December 31
In a much-awaited development, Delhi's Lt Governor Tejendra Khanna today, following an advice from the Union Home Ministry, gave a go-ahead to the CBI to prosecute senior Congress leader Sajjan Kumar in a 1984 anti-Sikh riots case.


Nation page: Law taking own course in Sajjan Kumar case: Cong

Punjab page: Hope for '84 riot victims: Phoolka

CAST YOUR VOTE
Should the Ruchika Girhotra molestation case be re-opened?

EDUCATION
JOBS & CAREERS
HEALTH & FITNESS
SCIENCE & TECHNOLOGY
REAL ESTATE
SPORTS
The Tribune wishes its readers a Happy New Year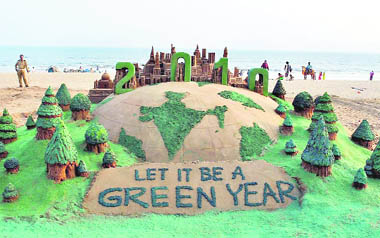 Sand artist Sudarsan Pattnaik sends out a go-green message at Puri beach on Thursday. — PTI
More trouble for Rathore
CBI to appeal for enhancement of sentence
New Delhi, December 31
The Central Bureau of Investigation (CBI) has decided to seek enhanced punishment for the former Haryana DGP, SPS Rathore, who is facing a six-month imprisonment after conviction in the Ruchika case.


Ruchika couldn't see my misery so she ended her life: Brother

No faith in SIT, says Prakash

Bihar connection to Ruchika case

Advt
NDA 60 Glorious Years
1857 The First Challenge
E - Revolution 2005:
A Two-day IT conclave
Assembly Elections - 2005
Turbans
Chandigarh is 50
125 Years of The Tribune
India: The Tasks Ahead
India at Sixty
A Tribune Supplement
EARLIER FEATURES
On Sundays
On Saturdays
Telangana Tangle
Parties divided over all-party meeting
Hyderabad, December 31
The political parties in Andhra Pradesh are caught in a Catch-22 situation following the UPA government's decision to hold an all-party meeting on January 5 to discuss the raging Telangana statehood issue.


Editorial: Solving Telangana
Bid to target Wagah flag-hoisting: Pak
Lahore, December 31
A Taliban plot to target the flag-hoisting ceremony at the Wagah land border with India was foiled with the arrest of 10 persons, including a top militant commander, Pakistani security agencies claimed today.
She's got greetings from the Queen
Shimla, December 31
While Queen Elizabeth and Prince Charles remembered to send Christmas and New Year greetings to Brahmi Devi, widow of George Cross recipient Naik Kirpa Ram, nobody bothered to wish her from the state as the media hype over the auction of the medal in London subsided.
Rathore faces SIT probe
December 31, 2009
Ruchika case to be re-probed
December 30, 2009
Tharoor 'tweet' earns rebuff from Krishna
December 29, 2009
Headley not to be extradited: FBI
December 28, 2009
AP Guv ND Tiwari resigns
December 27, 2009
Ruchika case needs to be reviewed: Moily
December 26, 2009
Crisis deepens in Andhra
December 25, 2009
Centre dithers on Telangana
December 24, 2009
Govt: Copenhagen accord doesn't affect sovereignty
December 23, 2009
Telangana: All set for decision, PM assures MPs
December 22, 2009