Labourers of the leather industry reel under the age-old burden of illiteracy, exploitation and drug addiction

Labouring for a bleak future
Riva
Tribune News Service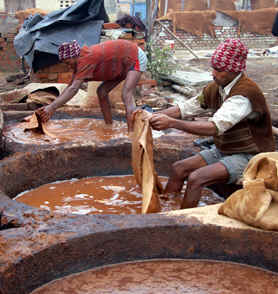 A labourer works in a domestic tanning unit in Buta Mandi, Jalandhar. Photo by writer
Jalandhar, January 12
The stench of rotten flesh and lime powder hammers at your olfactory senses the moment you enter the work-place-cum-residence of the lowest rungs of the leather trade.
While the younger generation wants to go along with the fast-moving world, it has far little resources and education. Merely 5 per cent of the community has been able to avail the benefits of reservation, or the opportunity to go abroad to work as labourers.
Drug addiction is rampant among the youths as they do not find any way out of the mire their forefathers have been in.
But even th work like flaying of animals has not bludgeoned the humaneness out of them.
The drive to lead a life of dignity and respect sometimes pushes them to revolt against the powers that be. Bhargo Camp, the locality named after Gopi Chand Bhargava, a pre and post-Independence leader of the community, is usually peaceful outward, but simmers with rage internally.
Though they have no complaints against the work which helps them earn a living, they commonly suffer from lung diseases, respiratory problems and skin infections caused due to constant exposure to glue, fumes and lime powder. "We have to dip the material in lime for days and regularly change its sides. Constant exposure to lime causes sores in our skin. But it is curable… oil massage works wonders," defends labourer Deen Kumar.
Exposed to neurotoxins and a risk of nasal cancer, they are devoid of any choices since it is the only work they know.
"I cannot do anything else; can't even work as a construction labourer. This is the work I have been doing from childhood. However, our children dislike this profession and call it dirty and degrading," says Hem Raj, whose family has been in the trade for the past many generations. While the new generation, by choice or by fate, is losing its traditional occupation, entry into other occupations remains restricted because of their low levels of education and awareness.
Interestingly, most of the traditional workers have some formal education. About 40 per cent have studied up to class VIII. None of the workers has any technical training. Although training institutes have been set up in different parts of the country exclusively for training such workers, the ones in the field are ignorant.
While on one hand lack of support from the government in terms providing incentives to promote the domestic labour, tanning industry has led to their decline, on the other, liberalised market policies of the government have made them more vulnerable. "China-made cheaper, imported shoes have taken over the shoe market in India. It has given poor artisans like us and also the small-scale producers a major setback," said Ramesh Lal.
Those working in tanneries are in no better condition. Their salaries range from Rs 2,500 to 4,500, much lower than the minimum wages set by the government. Most of the workers are temporary and keep shifting from one tannery to another. Those who haven't been laid off despite the economic crunches, consider themselves permanent.
An overwhelming majority of the workers is deprived of social security benefits like gratuity, crèche, coverage under accident schemes, retrenchment benefits, etc. A small fraction of permanent workers get PF, ESI and bonus, but that is not guaranteed.
"I was working as a regular employee in one of the tanneries in Phillaur, availing PF and ESI benefits. Once I fell ill and was admitted to the hospital. When I tried to claim the medical benefits after recovery, to my surprise, I was dismissed from job without any reason," claimed Bheesham Nath.
As per information, while most of the tanneries and exporters keep first aid and fire-fighting facilities in the units, workers feel that it is just an eyewash. "Are first-aid boxes sans medicines of any use? And who spends money to keep the fire extinguishers filled. The life of a worker is much cheaper…" rued Nath. Coming from traditional leather-making castes, a majority of them have faced social discrimination.
"While the government's policy for industry has catered to big business houses, other objectives, such as generation of employment, the quality of employment and the resilient development of the indigenous industry have almost been forgotten," concluded an ex-trade union leader.