COLUMNS

THIS ABOVE ALL
TELEPROMPT
GOOD MOTORING
LIFE'S LESSONS
LEXICON
WEBSIDE HUMOUR

FOR CHILDREN

CROSSWORD
ROOTS
RHYME TIME

Earlier Feature
TELEVISTA

AUDIO SCAN
Does our regional theatre have an identity of its own,
or is it a summation of individual success stories?
Nonika Singh finds out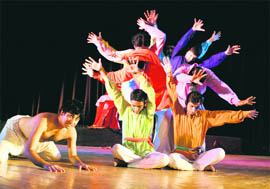 So has the regional theatre finally arrived, as these achievements reveal? However, according to Neelam, "There is no such thing as Punjabi theatre. At best, we are individuals working in Punjabi language. Beyond this there is no similarity in context or content. We all work from our own points of view."

n 115-year history

Balwant Thakur's play "Ghumai" received acclaim at six international festivals

The unsung hero
The mystery around Netaji's disappearance needs to be cleared,
says Gurkirpal Singh Sidhu
Young and brilliant, Subhas Chandra Bose was greatly influenced by the life and teachings of Swami Vivekananda. Despite clearing the ICS examination in 1921, he left his dream career to join the Indian freedom struggle. Through eventful years, he travelled extensively in India and abroad while undergoing several jail terms in between. A leader of the masses, Netaji was elected president of the Indian National Congress in February 1938.