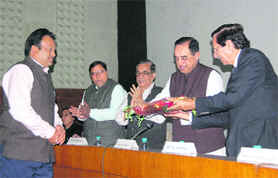 Bhartiya Vidya Bhawan holds talks on regionalism
Dehradun, March 9
Bhartiya Vidya Bhawan, Dehradun, held a discussion on "Who is the Indian Manoos?" in context with the issue of regionalism raised by MNS and Shiv Sena in Mumbai at the Wadia Institute Auditorium here today.
Dr Subramaniam Swamy, president, Janata Party, being felicitated at a seminar in Dehradun on Tuesday. Tribune photo: Anil P Rawat

Dehradun women get vociferous over quota Bill
Dehradun, March 9
On the 100th International Women's Day, with Women's Reservation Bill not getting the green signal in the Rajya Sabha amid boisterous behaviour of MPs belonging to the Samajwadi Party (SP), Rashtriya Janata Dal (RJD) and Janata Dal (United). The Tribune in Dehradun spoke to women to know their reaction after such an uproar over women's Bill.
Jewellery thief arrested


Dehradun, March 9
The police claimed to have arrested a thief from a gang that was involved in thefts in over five jewellery shops in the state. He, along with his accomplices, was trying to break shutters of a jewellery shop at Vidya Vihar last night when he got arrested. The rest the four accomplices managed to flee. However, the police managed to nab Prempal, alias Tejpal, a resident of Tilya Ghat district, Bulandshahar (UP), during the chase.
Small traders in day time and thieves at night
Dehradun, March 9
They are small traders in the day time and thieves at night! With the arrest of Prempal, alias Tejpal, who was part of a thieves gang who committed theft at five jewellery shops in the state capital in the past eight months, this fact has come to the fore.
Gen Rasquinha gives tips to RIMC cadets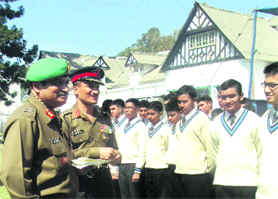 Dehradun, March 9
Major-Gen NM Rasquinha, General Officer Commanding, 14 Rapid (Strike), visited Rashtriya Indian Military College (RIMC) here today. An alumnus of the National Defence Academy (NDA)and the Indian Military Academy (IMA), the General Officer was commissioned on June 15, 1975, into 20 Rajput (Motorised), one of the oldest units in the Indian Army.
Major-Gen NM Rasquinha, General Officer Commanding, 14 Rapid (Strike), interacts with cadets at the Rashtriya Indian Military College in Dehradun on Tuesday.

A langur that refuses to be tranquilised
2 days on, foresters fail to net the beast
Nainital, March 9
For the past two days, personnel of the Forest Department in Nainital have been trying to catch a langur. The langur has been responsible for biting a large number of persons in the past week and officials have finally begun efforts to capture the simian.
Corbett starts current booking for safari ride
Nainital, March 9
The authorities at the Jim Corbett National Park have agreed to the demand of traders involved in tourism business in Ramnagar to do away with the system of 52-hour advance booking for a safari ride. Instead they have agreed to implement the system of current bookings.
Rural representatives get training
Dehradun, March 9
To strengthen the Panchayati Raj Institutions, a total of 60 elected representatives (EWRs) of Jaunpur, Mori and Bageshwar blocks of Uttarakhand participated in a training programme conducted at Rural Litigation and Entitlement Kendra (RLEK).
Blood donation camp held
Dehradun, March 9
Uttrakhand Power Corporation Limited and the Institute of Engineers and Uttarakhand State Centre held a blood camp with the help of the IMA.