Passengers using makeshift station facing problems
Katar Singh Wala (Bathinda), March 11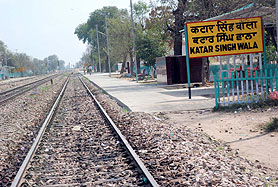 Passengers of trains passing through the 'makeshift' station, Katar Singh Wala, have been facing problems in one way or the other. The railway is running four trains, namely Gwahati-Lalgarh, Lalgarh-Gwahati, Kalka-Barmer, Barmer-Kalka, via Katar Singh Wala since March 8 as the Bathinda station is undergoing remodeling process. The train is likely to use the station till March 20 when the upgradation process is expected to be completed.
A view of the Katar Singh Wala railway station where platform has been constructed parallel to the railway track resulting in inconvenience for passengers. Tribune photo: Pawan Sharma

Iqbal Singh is new dist chief of lecturers' union
Bathinda, March 11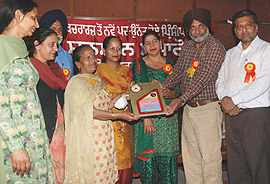 To honour their colleagues, who were recently promoted as principals, the Government School Lectures Union (GSLU) held a function at the Teachers' Home here today. Speaking on the occasion, activists of the union said the step of the Punjab School Education Board (PSEB) that promoted nearly 700 lecturers as principals was an achievement of the union, as it had been continuously pressing for the demand.
A lecturer promoted as principal being honoured during a function held at the Teachers' Home in Bathinda on Thursday. Tribune photo: Pawan Sharma

Camps to issue certificates to disabled on March 18, 26
Bathinda, March 11
Additional Deputy Commissioner (ADC) Sharuti Singh has asked the Bathinda Civil Surgeon to organise special sub-division-level camps in the district for preparing certificates for disabled persons.
'Blood bank to be set up in Jalalabad'
Fazilka, March 11
"Everyone should perform the responsibility of serving the suffering humanity with dedication along with his routine duty," said DIG BSF Vimal Satyarthi while inaugurating the 10th mega eye check-up camp organised by Ram Sharnam Jalalabad in the civil hospital.
Provident fund dept holds Lok Adalat
Ferozepur, March 11
Employees Provident Fund department organised a Lok Adalat here on Wednesday. The Lok Adalat was presided over by assistant provident fund commissioner Bathinda, Saurabh Swami. Other officials of the department were also present during the adalat.
DRM reviews progress
Bathinda, March 11
The divisional railway manager, Ambala, YP Singh, today, reviewed the progress of work related to remodelling of Bathinda railway station and commissioning of route relay interlocking (RRI) at the station.
Mystery shrouds death of head constable
Mansa, March 11
A police head constable was found dead under mysterious circumstances in Mansa today. As per the information, Hardev Singh, head constable, was posted in the office of the deputy district attorney in Mansa as a reader in.
Students get tips on computer designing
Abohar, March 11
Experts from the CADD Centre New Delhi including Vikas Sharma and Vijay Jakhar enlightened the students of Abohar Polytechnic College here about basics of mechanical engineering, computer designing, computer aided manufacturing and numerical control during a seminar today.
Dera followers sent to judical custody
Abohar, March 11
Five persons believed to be followers of Dera Sacha Sauda today surrendered before the city police in connection with damaging of buses, main post office, BDPO office and Patwar Khana in protest against registration of fresh case by the CBI.