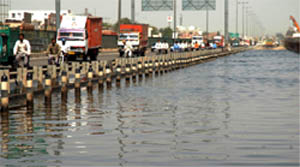 PERMANENT PROBLEM: Waterlogged service lane near Hero Honda Chowk which has been causing grave inconvenience to commuters and passers-by in Gurgaon. Tribune photo: Sayeed Ahmed
City lawyers observe strike
New Delhi, March 11
Work in all district courts in Delhi remained suspended today as the lawyers went on a day-long strike to protest "rising corruption" in the judiciary. The striking lawyers demanded that the kith and kin of judges should not be allowed to practice in same courts in order to ensure probity.
MCD to recover money from ghost pensioners
New Delhi, March 11
The Municipal Corporation of Delhi (MCD) aghast over the existence of 3,300 ghost pensioners apart from 22,000 ghost employees said it would recover the money received by them. The civic body admitted that it paid more than Rs 1 crore per month to ghost pensioners.
Auto driver held in hit and run case
New Delhi, March 11
The Delhi police has arrested an auto driver who hit and ran a woman and her son while they were crossing Peeragarhi Chowk, yesterday night, the police said today. Both the victims died.
Woman found hanging
New Delhi, March 11
A married woman committed suicide at her residence, the police said today.
Wanted criminal shot by accomplices
Greater Noida, March 11
A 30-year-old criminal wanted in 24 cases of murder and loot by various police stations was on Wednesday shot dead by some car-borne criminals near Imala village under Kasna police station.
BPO staffer held for killing colleague
Noida, March 11
The Noida police last evening arrested the team leader of a BPO firm for allegedly killing a female employee of his firm. The murder was committed in Faridabad. He was today produced before the chief judicial magistrate who sent him to 14-day judicial custody.
Gangster held for killing 2 RPF men
New Delhi, March 11
The Delhi police has arrested an alleged gangster for the murder of two Railway Protection Force (RPF) personnel in Delhi, the police said today. The accused was nabbed after a brief encounter.
2 FIRs for 6 burglaries!
Gurgaon, March 11
Tall claims made by the police authorities and their political bosses regarding prompt registration of FIRs in all cases notwithstanding, the local police has lodged only two FIRs for six incidents of burglaries in Sector-55 here.
Dowry Death: Husband, MIL jailed for life
New Delhi, March 11
The Delhi High Court today sentenced a man and his mother to life imprisonment in a dowry death case even though the parents of the deceased turned in favour of the accused.
2 get life sentence for murdering man to rob Rs 40 lakh
New Delhi, March 11
A Delhi court has sentenced two men to life imprisonment for stabbing to death a man and robbing him of Rs 40 lakh nearly six years ago.
Life term for murdering acquaintance
New Delhi, March 11
A Delhi court sentenced a man to life term for killing his acquaintance following a petty dispute three years ago.
Order on Tiwari's paternity suit reserved
New Delhi, March 11
The Delhi High Court today reserved its order on a paternity suit filed against veteran politician and former Andhra Pradesh Governor N.D. Tiwari by a youth claiming to be his son.
'Lots of work still needs to be done'
New Delhi, March 11
Commonwealth Games Federation president Michael Fennell has reiterated that a lot of work still needed to be completed on the infrastructural front.