PUNJAB
HARYANA
JAMMU & KASHMIR
HIMACHAL
REGIONAL BRIEFS
NATION
OPINIONS
LETTERS
BUSINESS
SPORTS
WORLD
Tuesday, March 30, 2010, Chandigarh, India
Updated at 3:00 am (IST)

India, US agree on N-reprocessing
Key step towards implementation of 123;
will open doors for American firms in India
India and the United States have reached a deal on reprocessing American-origin spent nuclear fuel to be supplied to India under the landmark civil nuclear agreement signed in September 2008.


Obama admn says...
2 female bombers hit Moscow metro, kill 38
Hand of Islamic insurgents suspected
Moscow, March 29
Two female suicide bombers killed at least 38 persons on packed Moscow metro trains on Monday even as Russian Prime Minister Vladimir Putin declared that "terrorists behind the attack will be destroyed".
India condemns Moscow blasts

A woman cries while standing next to an Emergencies Ministry member near Park Kultury metro station in Moscow on Monday. Reuters
CAST YOUR VOTE
Should politicians be allowed to withdraw so-called vendetta cases against MLAs?

EDUCATION
JOBS & CAREERS
HEALTH & FITNESS
SCIENCE & TECHNOLOGY
REAL ESTATE

SPORTS
CBI files chargesheet against Chautala in assets case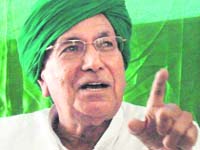 New Delhi, March 29
The CBI has filed a chargesheet against former Haryana Chief Minister Om Prakash Chautala in a corruption case in the special CBI court in Karkardooma in New Delhi, the investigative agency said today.
Hyderabad tense after communal clashes
* Curfew in old city
* 40 injured, mobs ransack shops
* Centre rushes 10 companies of paramilitary forces
Hyderabad, March 29
Indefinite curfew was imposed in several sensitive areas of old Hyderabad following fresh outbreak of communal clashes today. The curfew orders will be in force in 17 police station limits covering old city which has been in the grip of communal tension for the past two days.
UNION BUDGET 2010-11
RAILWAY BUDGET
2010-11
NDA 60 Glorious Years
1857 The First Challenge
E - Revolution 2005:
A Two-day IT conclave
Assembly Elections - 2005
Turbans
Chandigarh is 50
125 Years of The Tribune
India: The Tasks Ahead
India at Sixty
A Tribune Supplement
EARLIER FEATURES
On Sundays
On Saturdays
SC says can't interfere in Sajjan's bail matter
New Delhi, March 29
In a major relief to senior Congress leader Sajjan Kumar, an accused in the 1984 anti-Sikh riots case, the Supreme Court today refused to interfere with Delhi High Court's February 26 order granting anticipatory bail to him.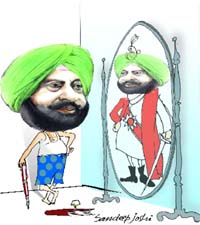 The Last Word
Capt Amarinder Singh
This Singh is not king, as yet
New Delhi, March 29
He loves the good life, yet is equally at home in the rough and tumble of politics. The Akali Dal engineers his expulsion from the House, he makes headlines outside it. The Congress has not made him chief of the state party, people take him to be one anyway.


MoD report slams Pak, cautious on China
New Delhi, March 29
Indian Defence Ministry today expressed concern at the worsening situation in Pakistan, calling terrorism a "threat to Pakistan and to the region". India has exercised exemplary restraint in the face of the gravest provocation, said the ministry as it released the excerpts of its Annual report for the year 2009-10 here this evening.


Defence annual report
Modi grilling a big step forward, says SIT chief
March 29, 2010

Modi grilled by SIT
March 28, 2010

Advani incited sevaks to demolish Babri: Witness
March 27, 2010
SC okays 4 pc job quota for Muslims in AP
March 26, 2010
Punjab takes poor children for a ride
March 25, 2010
Maoists disrupt life, kill 2, blast tracks
March 24, 2010
Pak wants N-parity with India, US mum
March 23, 2010
Bomb-like object in airline cargo
March 22, 2010
India will get access to Headley: US
March 21, 2010
Death for hijackers
March 20, 2010