PUNJAB
HARYANA
JAMMU & KASHMIR
HIMACHAL
REGIONAL BRIEFS
NATION
OPINIONS
LETTERS
BUSINESS
SPORTS
WORLD
Thursday, April 8, 2010, Chandigarh, India
Updated at 3:00 am (IST)

If this is war, we will fight back, says PC
l No plan to use the Air Force for now l Cong wants Naxals 'wiped out'
New Delhi, April 7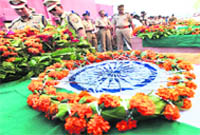 A war has been thrust on the government, acknowledged Union Home Minister P Chidambaram at Jagdalpur on Wednesday and declared that if it becomes necessary, the government would re-visit the mandate on the use of Air Force in the offensive against the Naxalites. Air Force in the offensive against the Naxalites.
Policemen stand guard at Amausi Airport in Lucknow on Wednesday as wreaths are laid on the coffins of security personnel massacred by Maoists in Chhattisgarh on Tuesday. — AFP
Rs 38 lakh grant to kin of slain personnel

What the Government Can Do

Editorial: Some heads must roll
CAST YOUR VOTE
Should politicians be allowed to withdraw so-called vendetta cases against MLAs?

EDUCATION
JOBS & CAREERS
HEALTH & FITNESS
SCIENCE & TECHNOLOGY
REAL ESTATE
SPORTS
Naxals fire at CRPF camp, no casualties
Raipur/Bhubaneswar, April 7
Naxals tonight fired at a CRPF camp in Dantewada district of Chhattisgarh defying stepped-up security in the wake of yesterday's bloodiest-ever attack on security forces.
India, China PMs to connect via hotline
Move to enable both hold direct talks whenever required
Beijing, April 7
India and China today signed an agreement to establish a hotline between Prime Ministers of the two countries, as External Affairs Minister SM Krishna and his Chinese counterpart Yang Jiechi resolved to take the bilateral relationship to new heights.
After fireworks, Shoaib-Ayesha truce


Hyderabad, April 7
After several twists and turns, the Shoaib-Ayesha saga ended today on a conciliatory note with the Pakistani cricketer divorcing the Hyderabadi girl, who, in turn, withdrew the criminal complaint against him.
UNION BUDGET 2010-11
RAILWAY BUDGET
2010-11
NDA 60 Glorious Years
1857 The First Challenge
E - Revolution 2005:
A Two-day IT conclave
Assembly Elections - 2005
Turbans
Chandigarh is 50
125 Years of The Tribune
India: The Tasks Ahead
India at Sixty
A Tribune Supplement
EARLIER FEATURES
On Sundays
On Saturdays
Special to the tribune
UK poll: NRIs to play crucial role
The outcome of the British general election on May 6 is still a gamble. Hence Prime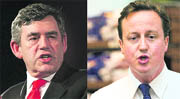 Minister Gordon Brown's decision to wait till the last possible moment to call the election because he hoped for some last-minute improvement in his party's standing with the electorate.
THE INCUMBENT: Gordon Brown, the PM and Labour Party leader (left) and THE CHALLENGER: David Cameron, Tory chief
Tytler Case
Court reserves order on CBI's closure report
New Delhi, April 7


The fate of senior Congress leader Jagdish Tytler hangs in balance after a local court kept its order reserved on CBI's closure report giving him a clean chit in a 1984 anti-Sikh riots case.Additional Chief Metropolitan Magistrate Rakesh Pandit, after hearing arguments of the CBI and the counsel for Lakhwinder Kaur, a riot victim, who opposed the probe agency's report, said the court would pronounce its order on the matter on April 20.


Retired? Don't sulk, come back on contract
'Pro-youth' Punjab re-inducting govt officials even if it means bending some rules
Chandigarh, April 7
Can you imagine retired and mostly tainted officers, re-employed with statutory powers and no accountability in terms of annual confidential reports, or fear of penal action, running the state administration? The fact that some of them, known for their "wayward" ways while in service, can again bring in corrupt practices does not seem to bother the government as it re-inducts them as additional deputy commissioners, subdivisional magistrates and assistant excise and taxation commissioner, on a contractual basis.
Bloodbath by Naxals
April 7, 2010
Mamata joins the Yadavs, pitches in for sub-quota
April 6, 2010
The buck stops with you, PC tells Buddha
April 5, 2010
Eye on youth, Punjab keeps 58 as retirement age
April 4, 2010
Terror on tracks: Ultras target Kashmir rail link
April 3, 2010
Education becomes a basic right
April 2, 2010
For now, retire at 58 in Punjab
April 1, 2010
5 get death for 'honour killing'
March 31, 2010
India, US agree on N-reprocessing
March 30, 2010
Modi grilling a big step forward, says SIT chief
March 29, 2010

Modi grilled by SIT
March 28, 2010