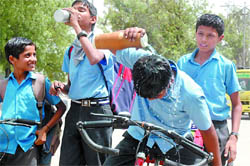 A boy pours water on his head to beat the heat on his return from school, as mercury touched 44 degrees Celsius in Bathinda on Thursday. Tribune photo: Pawan Sharma
Bhai Bakhtaur school kept locked for 3rd day in a row
Bathinda, May 13
Despite the efforts made by the administration, the residents of Bhai Bakhtaur village kept the high school of the village locked for the third consecutive day today. They were protesting against the proposed transfer of regular teachers of the school and appointment of contractual teachers in their place under the Rashtriya Madhyamik Sikhsha Abhiyan (RMSA).
Istri Akali Dal for appointing teachers
Zira (Ferozepur), May 13
Shavinder Kaur Jauhal, former president, Istri Akali Dal and member, working committee of the ruling SAD (B) while expressing deep concern over the sorry plight of the government-run schools, urged the state education minister to fill up the vacancies of teaches at the earliest.
School launches community project
Bathinda, May 13
The local Millennium School has launched a community service programme with a project "Spread a smile". The school today organised a function for children of the Phulkari Club in collaboration with The Art of Living. On the occasion, the school staff and students donated clothes, toys and stationery items. The students of the Millennium School and children of the Phulkari Club performed and danced together.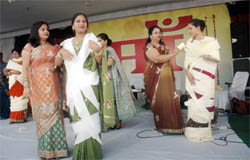 Catwalk a cakewalk for Moms!
Bathinda, May 13
They have expertise in moulding life of their kids, and they are equally deft in many other things. Whenever the time comes, these Bathinda mothers do exhibit that they are at home not only in dance and games, but for them a catwalk is also a cakewalk.

Mothers participating in a game held to mark Mother's Day at Lord Rama Public School in Bathinda on Thursday. Tribune photo: Pawan Sharma
MP distributes Rs 28 lakh for development works
Bathinda, May 13
Harsimrat Kaur Badal, MP from Bathinda, today held 'Sangat darshan' in six villages, namely Bhokhra, Ballahar, Vinjhu, Goniana Khurd, Goniana Kalan and Jeeda of the Bhucho Assembly constituency of this district. On the occasion, she distributed cheques worth Rs 28 lakhs for the development works in these villages.
Hassles force farmer to give up cotton & grains for vegetables
Bhai Bakhtaur (Talwandi), May 13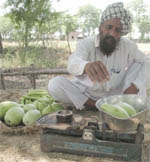 Fed up with the hassles involved in cultivation of grains and cotton, Basakha Singh, a small farmer here, has switched over to horticulture and vegetables in this area that has so far been known as the cotton belt of Bathinda.






A small farmer, Basakha Singh, selling vegetables cultivated on his land in the Bhai Bakhtaur village of Bathinda. He earlier produced grains and cotton. A Tribune photograph
Anganwari workers to up the ante
Bathinda, May 13
Despite 13 days of continuous agitation throughout the state since May 1 by Anganwari workers and helpers, as the Punjab government has been turning a deaf ear towards their main demand of enhancement in their monthly honorarium on Haryana pattern, the Anganwari Mulazam Union Punjab, led by its state president Hargobind Kaur, has convened a meeting of its state executive in Bathinda on May 16 to change the way of the agitation.
Police shake-up in Malwa
Bathinda, May 13
In a shake-up in the police set-up, the Punjab government today posted newly-promoted SPs in Bathinda, Barnala, Ferozepur and Mansa districts.
20 fall ill after eating langar food
Fazilka, May 13
About two dozen villagers, most of them resident of village Nihal Khera of this sub-division, fell ill after partaking of langar (community kitchen) in the village held as part of a post-death ritual.
Set ablaze by husband, woman succumbs to burns
Bathinda, May 13
In an act of cruelty, a 35-year-old woman from Behman Jassa Singh village (Talwandi Sabo) allegedly died of burns near Sangrur last night when she was being taken to Government Rajindra Hospital, Patiala. She had sustained burns after her husband allegedly poured kerosene on her in their house at the village. Finding her condition serious, the local Civil Hospital authorities referred her to the hospital at Patiala for further treatment.
Amritsar explosives haul: Owner of RDX-laden car identified by cops
Ferozepur, May 13
The state intelligence wing has managed to zero in on the owner of the car laden with suspected RDX explosive and detonators, which was found abandoned near the railway station on May 8.