Sangat Darshan
MP gives away Rs 25 lakh for development works
Bathinda, May 12
MP from Bathinda Harsimrat Kaur Badal today held 'Sangat darshan' in five villages of the Bhucho Assembly constituency, namely Bibiwala, Lehra Mohabbat, Lehra Sondhan, Tungwali and Lehra Dhurkot. During the programmes, she distributed cheques worth Rs 25 lakhs to the village Panchayats for development works. She also inaugurated a reverse osmosis system plant at Bibiwala village.
Bt cotton seed
Farmers made to shell out more as traders hike rates
Abohar, May 12
As the cotton sowing season is nearing its end, needy farmers have been paying a premium to purchase their requirement of the Bt cotton seeds from the traders to complete that exercise well in time.
PTU examiner's negligence costs BCA student dear
Moga, May 12
Gross irregularity on the part of an examiner in the Punjab Technical University (PTU) has come to light, which has put the career of a BCA student at stake.
Probe confirms work began without floating tenders
Fazilka Municipal Council authorities in the dock
Fazilka, May 12
The local municipal council (MC) authorities, who have courted a number of controversies in the past, are heading for another embarrassing situation as allegations levelled against it that execution of certain development works was started without floating tenders for the same, have been found true in the inquiry conducted by the deputy director, local bodies, Jaskiran Singh.
Wild growth eroding lining of Abohar canal wall...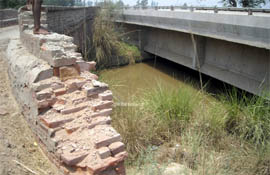 Abohar, May 12
The brick lining of the side walls of the Abohar branch canal that had been carried out at an initial cost of Rs 2.7 crore in the early 1995 has been completely covered by the wild growth of shrubs and plants resulting in loss of 200 cusecs for the Malukpura distributary that feeds a major area of Muktsar and Abohar sub-division.

Wild growth has reduced the capacity of Abohar branch canal. Photo by writer

...Silt deposits choke canal's water carrying capacity
Abohar, May 12
The Abohar canal, which is the lifeline for hundreds of villages and some urban pockets including this town, has come under severe threat due to huge deposition of silt on its bed and its banks.
Fazilka MLA hits out at GWAF, says charges misleading
Fazilka, May 12
Local MLA Surjit Kumar Jyani today refuted charges levelled against him in the light of the PIL filed by the Graduates Welfare Association Fazilka secretary Navdeep Asija before the Punjab and Haryana High Court. The HC has issued a notice to Jyani, Deputy Commissioner, Ferozepur and executive officer MC Fazilka on Tuesday regarding encroachment by one Kewal Krishan at a rickshaw stand in the cycle bazaar in Fazilka. The court has issued notice to Jyani and others on August 17 to present their views.
School van crushes boy to death
Ferozepur, May 12
In a tragic incident, a twelve-year-old schoolboy Sahil Gumber, was crushed to death by a school van. Sahil, son of a local businessman Deepak Gumber, was a student of class VI. He was standing outside his house at Preet Nagar locality in the city when the accident occurred.
PSSF holds rally
KBathinda, May 12
On the call given by the Punjab Subordinate Services Federation (PSSF), a large number of employees and pensioners from Faridkot, Moga, Muktsar, Ferozepur, Barnala, Mansa and Bathinda districts held a rally in support of their demands outside the Mini-Secretariat here today. PSSF chairman Sajjan Singh led the protest.