BJP workers burn Centre's effigy
Dehradun, May 13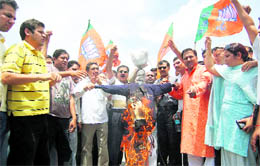 Workers of the BJP's Veer Chandra Singh Garhwali Mandal today burnt an effigy of the Central government at Vidhan Sabha Chowk here. Addressing the protesters, Puneet Mittal, Mahanagar BJP president, accused the Congress-led Centre of resorting to a step-motherly treatment of the state government. He even accused the Congress MPs from Uttarakhand of adopting a complacent attitude.

BJP workers burn an effigy of the Central government in Dehradun on Thursday. A Tribune photograph

Kailash Mansarovar Yatra
Pilgrims' number to be highest in 25 yrs
Pitthoragarh, May 13
Expecting an extra rush for the Kailash Mansarovar this year, the Kumoan Mandal Vikas Nigam (KMVN), nodal agency, has started work to build two extra halls of eight-bed capacity each at all five-track route camps on this yatra route. This was stated by KMVN sources said.
Leopard skin, bear's gal bladder seized, two held
Dehradun, May 13
A leopard skin, a bear's gal bladder and a blue sheep's antler and some meat were seized today from the neighbouring Ponta Sahib area in a joint operation by the Wildlife Protection Society of India and Anti-poaching Cell of the Uttarakhand Forest Department and the Himachal Forest Department authorities. Two persons were arrested from the spot.
IAF recruitment rally from June 15
Dehradun, May 13
The Commanding Officer of the Indian Air Force (IAF), Wing Commander VP Singh, today announced to conduct a recruitment rally at Rudrapur, Udham Singh Nagar district, from June 15 to 21.
GMVN employees call off strike
Dehradun, May 13
Employees of the Garhwal Mandal Vikas Nigam (GMVN) today called off their indefinite strike after three days when the management of the GMVN asked for a month's time to work out their demands by forwarding these to the state government.
Central Silk Board staff hold demonstration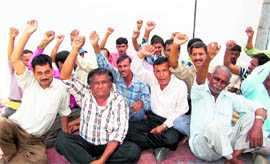 Dehradun, May 13
Demanding restoration of temporary status scale plan and better working conditions, time-scale farm labourers of the Central Silk Board held a demonstration in support of their demands at the Majra office (Brahmawala) here today.


Employees of the Central Silk Board hold a protest in Dehradun on Thursday. A Tribune photograph

Biomedical waste: Board gets tough against defaulters
Dehradun, May 13
A majority of hospitals and clinics in Uttarakhand continue to dump biomedical waste without making any separate arrangements. In fact, the Uttaranchal Pollution Control Board has served notices on 15 private clinics and 16 government facilities (comprising hospitals and dispensaries) in Dehradun district in this regard.
Youth's body found buried in sand

Nainital, May 13
The body of a youth found buried in sand in a thickly populated locality has created a sensation in the township of Rudrapur in Udham Singh Nagar district. The recovery a stamp of a school from the pocket of the deceased has led the police to assume that the victim might be a resident of Bareilly.

Auto thieves nabbed by the police in Dehradun on Thursday. A Tribune photograph

Now, DMC targets illegal hoardings atop houses
Dehradun, May 13
A day is left to complete the campaign to remove illegal hoardings on roads by the Dehradun Municipal Corporation (DMC). Before its completion, the DMC has started a survey process to assess the illegal hoardings installed on rooftops of houses. Now the DMC is to remove these hoardings. In the first survey, it has come up with the recognition of 40 such hoardings.
Make science popular among local people: Khanduri
Dehradun, May 13
In a meeting held today between former Chief Minister of the state Major-Gen BC Khanduri and representatives of the Indian Science Writer's Association, Khanduri said the association would have to work diligently to make science and technology popular among local people of the state.