Sohail Murder Case
Deceased's family demands arrest of suspects
Dehradun, June 2
The family members of Sohail, who was allegedly murdered on January 12, demanded the arrest of persons involved in his killing.The three suspects are Rizwan, Fahim and an unidentified native of Bihar behind the killing. Rizhwan has already been bailed out after he surrendered in the court, while Fahim and the third suspect have been absconding.
Anti-UPA drive:BJP collecte 12 lakh signatures
Haridwar, June 2
With the BJP and the Congress-led UPA being in power in the Uttarakhand and at the Centre respectively, the clash of opinion is bound to happen. The allegation and counter allegations has become a norm in the state.
Power, Water Woes
29 complaints received at control room
Nainital, June 2
A combined control room set up on the Tehsil premises in Nainital on May 28 to address the problems pertaining to power and water supply has received 29 complaints till now.
India Network gives hope for better life to HIV+ patients
Dehradun, June 1
Fearing ostracisation and rejection, persons living with HIV/AIDS seldom come out in the open and share their predicament with others, but share they must in order to make society more responsive and caring and even set the healing process for them.
DM visits potential sites for proposed energy parks
Nainital, June 2
The new and renewable energy Union ministry has given its clearance for the setting up of a state-level energy park in Nainital. For identifying the venue for the proposed park, the district administration has started an exercise as a part of which District Magistrate Shailesh Bagauli visited two potential sites in the Patwadangar area on Saturday.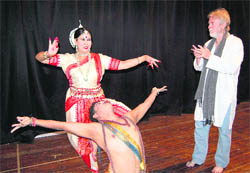 Ballet 'Saga of Bhagirithi' performed
Dehradun, June 2
Yearnings of an artist and an environmentalist found expression today at the dance ballet performed by Odissi dancer Sharmila Bhartari and actor Tom Alter and their troupe Mohini with 12 members.


Sharmila Bhartari with Tom Alter perform a ballet at the ONGC auditorium in Dehradun on Wednesday.A Tribune photograph

Polytechnics, NGOs to take technology to villages
Dehradun, June 2
Polytechnics of Uttarakhand and NGOs will work together for taking technology to villages. To facilitate coordination between NGOs and polytechnics, the Himalayan Environment Studies Organisation (HESCO) will act as a facilitator.
Dispute triggered by dog takes political hue
Mussoorie, June 2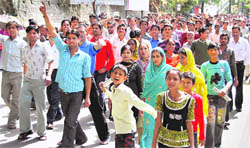 A dispute over barking of a dog that led to two sides indulging in a fistfight and injuries to on Tuesday turned ugly today when the trade union extended its support to the victim's family and led a protest march against the administration and Palika President OP Uniyal for siding with the perpetrators.

The trade union members take out a march in support of Shazeb's family in Mussoorie on Wednesday.

BJP blames Centre for food crisis
Nainital, June 2
The BJP-led state government has once again held the Centre responsible for the foodgrain crisis in the state meant to be distributed through the Public Distribution System (PDS) to families living the Above Poverty Line (APL).
Northern Railway staff present memo to AGM
Mussoorie, June 2
The Northern Railway Men Union, Dehradun branch, presented a memorandum to the Assistant General Manager (AGM) Northern Railways today. The members led by branch secretary Ugrasen demanded medical pass and ambulance facility for the employees.
Statehood agitators seek nomination in Assembly
Dehradun, June 2
In a joint meeting held by Uttarakhand Rajya Nirman Andolankari Sangh, senior leader Kalavati Joshi criticised the high handedness of the Secretariat for not accepting the memorandum and arresting the members of the organisation when they went to protest at the Secretariat on May 24. The members decided to lodge a collective FIR against politicians and bureaucrats responsible for the act.
This painter depicts human mind on canvas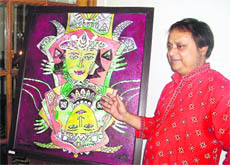 Mussoorie, June 2
A painting exhibition of eminent artists and head of the Art Department of Doon School Aloke Tirtha Bhowmick titled "Human mind" started at Jaypee Residency Manor Hotel, Barlowganj, here today.




Aloke Tirtha Bhowmick describes his painting to media persons in Mussoorie on Wednesday.
MBD Group opens branch in Doon
Dehradun, June 2
A pioneer in the field of education, MBD Group, inaugurated its corporate branch in Dehradun today to facilitate the book-sellers and students of Uttarakhand State.While inaugurating the branch, Satish Bala Malhotra, Chairperson of the group, said: "Our objective is to solve educational problems. Our endeavour is to simplify the complex text and provide a comprehensive study material for the beneficiaries".