PUNJAB
HARYANA
JAMMU & KASHMIR
HIMACHAL
REGIONAL BRIEFS
NATION
OPINIONS
LETTERS
BUSINESS
SPORTS
WORLD
Friday, June 4, 2010, Chandigarh, India
Updated at 3:00 am (IST)


Special to The Tribune


Krishna pitches for access to Headley
'India's neighbourhood epicentre of transnational terrorism'
External Affairs Minister S.M. Krishna on Thursday made a strong pitch for access for Indian investigators to David Coleman Headley, a Pakistani-American who has admitted to helping Lashkar-e-Toiba plan the 2008 attacks in Mumbai.

Editorial: Strategic ties with US
| | |
| --- | --- |
| | Foreign Minister SM Krishna and US Secretary of State Hillary Clinton at a press conference after the US-India Strategic Dialogue at the State Department in Washington, DC, on Thursday. — AFP |
Will put in place nuke pact with US: India
External Affairs Minister SM Krishna on Wednesday assured members of the US business community that India is committed to implementing a 2008 civilian nuclear deal with Washington. The slow progress on the nuke deal front has resulted in growing frustration among the Indian and US firms.
CAST YOUR VOTE
Should the execution of Ajmal Kasab's death sentence be put on fast track?

EDUCATION
JOBS & CAREERS
HEALTH & FITNESS
SCIENCE & TECHNOLOGY
REAL ESTATE

SPORTS & WELLNESS
RS Poll
Cong renominates Ramesh, 3 others
New Delhi, June 3
The Congress today renominated four sitting Rajya Sabha members, including Environment Minister Jairam Ramesh, for the upcoming biennial elections to the Upper House from Andhra Pradesh.
Home remedy for H1N1
Low cost, desi vaccine guarantees one-year immunity
New Delhi, June 3
Sick…suspecting H1N1? Fear not, for a single shot of country's first indigenously manufactured H1N1 vaccine guarantees the recipient yearlong immunity to Influenza A.
UNION BUDGET 2010-11
RAILWAY BUDGET
2010-11
NDA 60 Glorious Years
1857 The First Challenge
E - Revolution 2005:
A Two-day IT conclave
Assembly Elections - 2005
Turbans
Chandigarh is 50
125 Years of The Tribune
India: The Tasks Ahead
India at Sixty
A Tribune Supplement
EARLIER FEATURES
On Sundays
On Saturdays
Dilnaz out of borewell, but dead
Dhira (Gurdaspur), June 3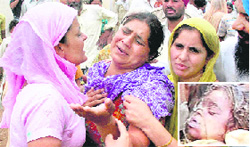 The Army, in cooperation with the local police, today failed to pull out Dilnaz Kaur alive after she got trapped 30 feet deep in a borewell yesterday.
Grieving mother of Dilnaz (inset), who died after falling into a borewell, in Dheera village of Gurdaspur on Thursday. — PTI

Suitable law to strengthen DGCA: Patel
New Delhi, June 3
In the aftermath of the terrible Mangalore air accident, India is now contemplating introducing a "suitable legislation" in Parliament to strengthen Directorate General of Civil Aviation. (Details on Nation page)


A TRIBUNE INVESTIGATION
WHY SUKHNA IS DYING-II
The fatal delay in desilting
Chandigarh, June 3
These days the placid environs of Sukhna lake have been disturbed by the constant sound of an army of earth movers, trucks and tractors plying busily in and out of the dried up bed of the lake. The Regulator End, as it is called, of the lake has been cordoned off for walkers, as tonnes of silt is scooped out from the bed of the lake and then transported out.
| | |
| --- | --- |
| | An earth mover dumps silt into a truck during the ongoing desilting drive at Sukhna Lake on Thursday. Tribune photo: Pradeep Tewari |
Sukhna is dying, save it!
June 3, 2010

Optimistic PM pegs growth at 8.5 pc
June 2, 2010

Rail mishap takes political hues
June 1, 2010

US rehearses strikes on Pak
May 31, 2010
New education draft has states smiling
May 30, 2010
Maoists target train, 76 dead
May 29, 2010
AI limps back to normalcy
May 28, 2010
Air India strike off, 15 union members sacked
May 27, 2010
Rathore arrested, sent to jail
May 26, 2010
Good ties with Pak to benefit India: PM
May 25, 2010
Time for Re-alliance
May 24, 2010