PUNJAB
HARYANA
JAMMU & KASHMIR
HIMACHAL
REGIONAL BRIEFS
NATION
OPINIONS
LETTERS
BUSINESS
SPORTS
WORLD
Every Wednesday & Saturday
Chamliyal Shrine
Symbol of unity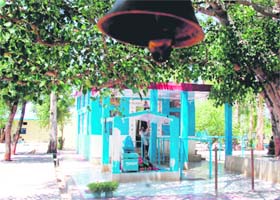 Jammu, June 15
Located on the international border in Samba district, the shrine of Baba Dalip Singh Manhas, known as Baba Chamliyal, is respected by people on both sides of the border. Popularly known as Chamliyal mela, the event is organised at the shrine every third Thursday of June.
All set for annual fair
Baba Chambial, June 15
Preparations are in full swing for the historical Baba Chamliyal mela, which has become a rare example of brotherhood between India and Pakistan over the years, even as a bitter struggle between political leaders over the control of the shrine is playing spoilsport.
Anti-encroachment drive only for poor?
June 12, 2010
Make AFSPA more transparent: CM
June 9, 2010
Tender shoulders carry Jammu's burden
June 5, 2010
These children remain deprived of opportunities
June 2, 2010
Women worst sufferers
May 29, 2010
Killer roads continue to claim lives
May 26, 2010
Public parks or parched land
May 22, 2010
Unclaimed vehicles turn into scrap
May 19, 2010
No relief, hope for migrants
May 15, 2010
Highway four-laning devours trees
May 12, 2010