Stretch of Road Washed Away
Traffic on Jammu-Pathankot highway suspended
Hiranagar (Kathua), August 20

Hundreds of vehicles remained stranded on the Jammu-Pathankot National Highway for over 12 hours today after overnight rain damaged a stretch of the strategic road at Gurha Mundian near Hiranagar Morh of Kathua district.




The damaged stretch of the Jammu-Pathankot National Highway at Hiranagar in Kathua on Friday. A Tribune photograph

Geelani's strike call evokes poor response in Jammu region
Jammu, August 20
Hurriyat Conference leader Sayed Ali Shah Geelani's call to observe strike today in the Jammu region, against the alleged violation of human rights, failed to evoke much response in this side of Pir Panchal.
Cong observes birth anniversary of Rajiv Gandhi
Jammu, August 20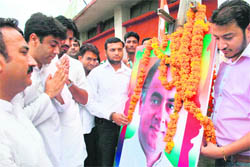 The birth anniversary of former Prime Minister Rajiv Gandhi was observed today as Sadhbhavna Day by the Congress in the state. While the main function was held at the party headquarters at Jammu, several functions were held at various places.


Members of the Youth Congress pay tributes to late former Prime Minister Rajiv Gandhi on his birth anniversary in Jammu on Friday. Photo: Inderjeet Singh

Forum for united stand
Jammu, August 20
The Jammu and Kashmir People's Forum - an umbrella organisation of various groups - has decided to bring all political and social organisations of the Jammu region on a common platform to evolve a consensus to put forth an acceptable solution of the vexed Kashmir problem.
Sadbhavna Divas Pledge
Strengthen communal harmony: Governor
Srinagar, August 20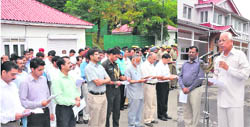 Governor N. N. Vohra has called for urgently restoring and strengthening the high traditions of communal harmony, brotherhood and secular ethos for which the state has been known for centuries. He also emphasised the need for immediate restoration of peace and normalcy for ensuring progress and prosperity of the state.

Governor N N Vohra speaks at the Sadbhavna Divas pledge function at Raj Bhavan in Srinagar on Friday. A Tribune photograph

Militant sympathiser held in Doda
Jammu, August 20
The security forces apprehended a sympathiser of militants from the Dehrai area in Doda district yesterday.
Community information centres non-functional
Jammu, August 20
Community information centres (CICs), which were set up in every block of the district across the nation two years ago, are presently non-functional in most parts of this state.
3 injured in clash
Jammu, August 20
Three persons sustained severe injuries in a clash over a dispute in the Nanak Nagar area here today.Sources said a man, who had a dispute with his wife, stabbed her three relatives during a clash in a private educational institution in Nanak Nagar here.
Heavy rain hinders functioning of schools
Jammu, August 20
A heavy rainfall for the last few days has affected the functioning of some government schools located in the low-lying areas.Government Primary School, Udheywala, remained closed today as all the ways leading to the school have been inundated, making it difficult for students to reach the school. Around 60 students are studying in the school.
Student caught with leopard skin
Jammu, August 20
A Class XII student and son of a policeman was arrested and a leopard skin seized from his possession in Jammu yesterday, the police said.It said acting on a tip-off, the boy was intercepted at Panama Chowk and the skin along with its head was seized from his possession.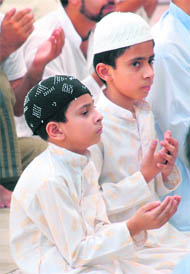 Boys offer namaaz during the holy month of Ramzan in Jammu on Friday. A Tribune photograph
Homage paid to soldier
Jammu, August 20
The Counter Insurgency Force (Romeo) today paid homage to its martyred soldier T Kishore Kumar Singha at Palma.Singha had made a supreme sacrifice while fighting dreaded terrorists in the rugged mountainous area of Sheruwala in Thannamandi Tehsil of Rajouri district on August 15.
Patwari held taking bribe
Jammu, August 20
The State Vigilance Organisation (SVO) caught Harbans Lal, patwari of Halqa Ratnal in Bishnah, while accepting a bribe of Rs 4,000 from a person of the same area yesterday. Acting on the complaint of Sham Lal that the patwari had demanded bribe from him to issue a copy of Missal Hakiat, the vigilance sleuths laid a trap and arrested the patwari red-handed.
Association of wives of Army men begins celebrations
Jammu, August 20
The president of the Army Wives' Welfare Association (AWWA), Northern Command, Ritu Jaswal, inaugurated the week-long celebrations at the Udhampur military station yesterday.
Woman washed away
Jammu, August 20
Flash floods triggered by a heavy rain claimed the life of a woman in Udhampur last evening, the police said.Pooja Devi, 24, who was grazing her cattle near the bank of a river, was washed away in the flash floods last evening, it said.