PUNJAB
HARYANA
JAMMU & KASHMIR
HIMACHAL
REGIONAL BRIEFS
NATION
OPINIONS
LETTERS
BUSINESS
SPORTS
WORLD
Sunday, August 22, 2010, Chandigarh, India
Updated at 3:00 am (IST)

Rain disrupts North

Bhakra releases water

Yamuna above danger mark

Landslides in Himachal Pradesh, Uttarakhand

Northern India braces for more rain
Bhakra Dam/ New Delhi, August 21
On a day when drought-hit West Bengal reported its first suicide by a farmer, the spectre of flood stared at several parts of North India. People living in low-lying areas along the river Yamuna were evacuated in Delhi after the river rose beyond the danger level.




Residents of Burj village in Anandpur Sahib district after the release of water from Bhakra Dam on Saturday. Tribune photo by Manoj Mahajan

Punjab page:

Bhakra rises despite opening of floodgates

'Kar sewa' bridges help people

Click Tribune in Punjabi, Hindi New
EDUCATION
JOBS & CAREERS
HEALTH & FITNESS
SCIENCE & TECHNOLOGY
REAL ESTATE

SPORTS & WELLNESS
TRIBUNE IMPACT
Some relief: Centre to sponsor 11-yr-old's studies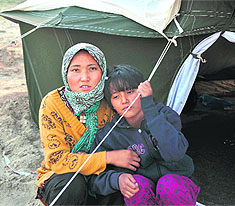 A day after The Tribune highlighted the fate of a 35-year-old Leh woman who lost one daughter to the August 6 flash floods and had no resources left to educate the other, the Union government today stepped in to rescue of the family.
Skalzang Angmo with her mother Stanzan Dolma outside their tent at the Himak Relief Camp in Choglamsar. Tribune photo

Cloudburst, nothing else, behind Leh floods: Scientists
N-Bill may hit roadblock again
Revised draft gives suppliers a long rope
New Delhi, August 21
The contentious nuclear liability Bill could run into rough weather once again as the official amendments circulated by the government today show that it has again been diluted in favour of reactor suppliers.
Nation page: No N-pact if India opts for test: Japan

UNION BUDGET 2010-11
RAILWAY BUDGET
2010-11

NDA 60 Glorious Years
1857 The First Challenge
E - Revolution 2005:
A Two-day IT conclave
Assembly Elections - 2005
Turbans
Chandigarh is 50
125 Years of The Tribune
India: The Tasks Ahead
India at Sixty
A Tribune Supplement
EARLIER FEATURES
On Sundays
On Saturdays
Notice to Google on J&K map
New Delhi, August 21
Government today said it has issued a notice to Internet search giant Google for depicting Pakistan-occupied-Kashmir as part of Pakistan.
In the blood Another Thackeray in political arena
Mumbai, August 21
The Shiv Sena has a new rising star: Aditya Thackeray, grandson of supremo Bal Thackeray is all set to make his political debut under the students' wing of the party.
No kiss please, we're Indian!
New Delhi, August 21
'Don't greet an Indian woman with a peck on the cheek'; 'cover your knees and shoulders at holy places'… Well, the advisory is no Taliban diktat but a 'set of etiquettes' issued to the visitors of the Delhi Commonwealth Games.


In land of Aryabhatta, near-zero pursuit of maths
Maths Maha Meet: IT, management more alluring for youngsters, decry pundits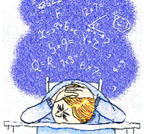 Hyderabad, August 21
Centuries ago, India was a global leader in mathematics, with wizards like the Aryabhatta, who gave world the concept of zero, his disciple Bhaskara followed by Ramanujan. But now, it seems, the magic of maths is fast losing its charm.


At maths meet, Indians miss medallions
MPs get 300% hike, still unhappy
August 21, 2010


Badal scuttled it, says Arjun; no, it was treachery: Badal
August 20, 2010

It's all over bar the shouting
August 19, 2010

Rs 125 cr for Ladakh resurrection
August 18, 2010

Don't have heart to see more deaths...
August 17, 2010

PM steps in to clean CWG mess
August 15, 2010

300 tonne explosive missing
August 14, 2010

Now you can keep your cell number
August 13, 2010

Indian superbug threatens world
August 12, 2010