Govt politicising Central relief issue: Cong
Nainital, September 28
Congress President Yashpal Arya has attacked Chief Minister Ramesh Pokhriyal Nishank and his cabinet colleagues for politicising the relief effort in the state that has followed a large-scale loss of life and property in rain-related incidents. Arya has also demanded that the state government must give an account of the utilisation of Rs 600 crore provided by the Centre to the people of the state.
Ayodhya: Security up at sensitive places
Dehradun, September 28
Security was beefed up at sensitive places of Uttarakhand today, following rejection of the Ayodhya title suit verdict deferment petition by the Supreme Court.
Alva urges students to demystify knowledge for benefit of common man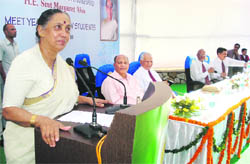 Dehradun, September 28
Uttarakhand Governor Margaret Alva addressed a fresh batch of students from the University of Petroleum and Energy Studies (UPES) here today. In her inspiring address to the students of the new academic session, the Governor urged them to take full advantage of the various facilities and opportunities that had been extended to them at the university.

Governor Margaret Alva addresses students in Dehradun on Tuesday.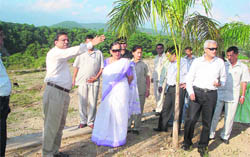 Alva inspects cultural centre site
Dehradun, September 28
Uttarakhand Governor Margaret Alva conducted an on-the-spot inspection of the selected site for establishment of the proposed cultural centre in Dehradun.




Governor Margaret Alva inspects the site of a cultural centre in Dehradun on Tuesday.
Experts discuss use of technology to boost tourism
Dehradun, September 28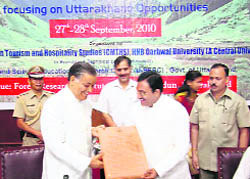 The two-day national conference on "Science and Technology Applications in Tourism Sector focusing on Uttarakhand Opportunities" on the occasion of World Tourism Day at the Forest Research Institute, Dehradun, organised by the Centre for Mountain Tourism and Hospitality Studies (CMTHS), HNB Garhwal University, concluded today.

CM Ramesh Pokhriyal Nishank presents a memento to the Lieut-Governor of Goa, Lieut-Gen MM Lakhera (retd), at a seminar in Dehradun on Tuesday.
Villagers honour brave cops
Haridwar, September 28
As the level of the Ganga gets back to normal, life in the flood-affected villages seems to be coming on the track once again. One such village is Laldhang where a major rescue operation was carried out by police personnel. Villagers rewarded the policemen who braved the gushing water to save the villagers.
MP backs agitating gram pardhans
Dehradun, September 28
Members of the Gram Pardhan Association, Uttarakhand, have got support of Congress MP from Tehri Vijay Bahuguna on the 14th day of their protest here today.
Ruskin Bond releases 'Memoir of Dehradun'
Dehradun, September 28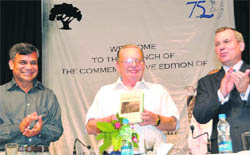 It was down the memory lane for famous writer Ruskin Bond, as he launched the book, "Memoir of Dehradun", by GRC Williams at Doon School here today as part of the school's 75-year celebrations.



Writer Ruskin Bond (centre) at the relaunch of book "Memoir of Dehradun" at a function in Dehradun on Tuesday. A Tribune photograph
GMVN V-P's priority is to give benefits to employees
Mussoorie, September 28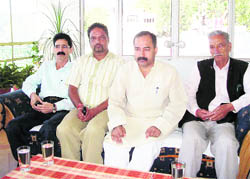 Garhwal Mandal Vikas Nigam (GMVN) Vice-President Raghunath Singh Negi, on his inspection visit to Hotel Garhwal Terrace, said his first priority was to provide employees all benefits accruing to them.






Garhwal Mandal Vikas Nigam Vice-President Raghunath Singh Negi speaks to the media in Mussoorie on Tuesday.
Dhrohar puts forth five points
Dehradun, September 28
Pankaj Singh Kshetri, president of an organisation, Dhrohar, submitted a memorandum to the District Magistrate (DM) with regard to the devastation caused in the wake of a raise in level of the Tehri Dam lake by the THDC.
100 proposals passed in Palika Board meeting
Mussoorie, September 28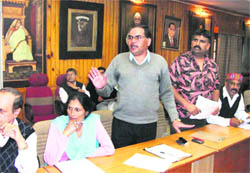 Around 100 proposals, some with little amendments after deliberation by ward members, were passed in the Palika Board meeting held here today. The proposal of an honorarium of Rs 6,000 for contractual employees was also decided in the meeting after a few objections by members.




Nagar Palika ward members deliberate at a board meeting in Mussoorie on Tuesday.
Labourer raped by two
Dehradun, September 28
A labourer, in her early 20s, was allegedly raped by two persons in the slum area opposite Vijay Colony here yesterday. The victim reported the matter to the police today.
Nishank gives cheques to kin
Pitthoragarh, September 28
Uttarakhand Chief Minister Ramesh Pokhriyal Nishank today distributed Rs 4.5 lakh among the next of kin of the children who died of measles in the Sundungra area of Champawat district last month.