1,050 disaster-hit families still living in tents
Loss in Pauri Garhwal dist estimated at Rs 75.65 cr, says minister
Pauri Garhwal, November 6
Uttarakhand has been facing natural disasters due to heavy rainfall, landslides, cloud bursting and floods. Though relief and compensation aid process is going on, yet there are hundreds of affected people who are still facing immense problems as they are living in tents beneath the open sky.
SSB ex-volunteers to oppose inauguration of Jauljivi Fair by CM
Pitthoragarh, November 6
Former volunteers of the Sahastra Seema Bal (SSB), also known as Guerillas, have announced that they will not allow the inauguration of the famous tri-nation Jauljivi Fair, which is scheduled to be begin from November 14, by any political personality of the government to press their three-point demand of giving them employment in the SSB and laying out a pension structure for those who are overage for government services.
Babbar Khalsa, Khalistan Zindabad outfits may be active in Terai: Reports
Dehradun, November 6
There is the possibility of the activities of the Babbar Khalsa International (BKI) and the Khalistan Zindabad Force (KZF) in the Terai region and adjoining districts of Uttar Pradesh.
Infighting brings bitterness to Cong women's wing on Divali
Mussoorie, November 6
The taste of Divali sweets became sour for many members of the Congress women's wing due to the infighting that has broken out among the workers on the issue of the nomination of Geeta Kumain at the post of city president in Mussoorie.
Rehabilitation Package: Delay leads to more loss of lives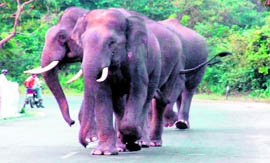 Dehradun, November 6
Three persons were killed by an elephant at Khandgaon in the Rajaji National Park on Divali night. These deaths are a result of a saga of unkept promises and long-drawn rehabilitation that has not yet seen the light of the day.


Three elephants move on a highway in Shyampur on Friday. Tribune photo: Rameshwar Gaur
Jumbo tramples woman, two kids to death
Dehradun, November 6
Three persons, including two children, were trampled by an elephant in Khandgoan in Motichoor Range of the Rajaji National Park.
Turkish Film Festival from Nov 14
Dehradun, November 6
The Dehradun Film Society will organise a Turkish Film Festival on weekends from November 14.
Youth killed in altercation
Family members attack house of accused

Dehradun, November 6
The Dehradun police is searching for the three absconding miscreants who had killed a youth after a dispute in a gambling incident on Thursday night, a day before Divali, in the Chander Nagar area.



A car of a murder accused set on fire by an agitated mob in Dehradun on Thursday. A Tribune photograph
Three killed as car falls into ditch
Dehradun, November 6
Three persons were killed and four others were injured when the car in which they were travelling went off the road and fell into a deep ditch near Saknidhar Saunpani near Srinagar Garhwal yesterday. The car, on its way from Rishikesh to Srinagar, met with the accident at 7 am. The injured persons were shifted to the Government Hospital at Srinagar.
State Formation Day
DM holds review meeting
Dehradun, November 6
As part of the Uttarakhand Formation Day, District Magistrate (DM) Sachin Kurve presided over a review meeting at his camp office here today.
Gangotri closed for winter
Dehradun, November 6
One of the four Char Dham shrines, Gangotri was closed for the winter today. Pilgrims in large numbers queued up to pay last obeisance of the Akhand Jyoti before the closure of the shrine. Head priest Sanjiv Semwal conducted the closure rituals.
Camp for disabled rescheduled
Will be held on 2nd, 4th Wednesday at Doon Hospital
Dehradun, November 6
Camps for the disabled will now be held on the second and fourth Wednesday of the month at the Doon Hospital.
Himalayan bears damage crops, attack Darma Valley residents
Pitthoragarh, November 6
Winter crops in Himalayan villages of the district are now facing a damage threat by Himalayan black bears, that are not only attacking the crops of potato, palthi, maize and other root-based vegetables, but also the villagers who are coming in their way.