Cabinet nod to Medicinal Plant Board structure
10-member panel to give advice on energy conservation
Dehradun, November 16
The Cabinet today approved the creation of the administrative structure of the State Medicinal Plant Board (SMPB) which has already been made an apex body falling under the Horticulture Department.
No allotment of hoarding space in my term: Mayor
Dehradun, November 16
Dehradun Mayor Vinod Chamoli said he would not allot any junction or tri-junction for hoardings, at least till his term got over. He affirmed that his major plan was to provide employment opportunities to the unemployed and beautification of the city. Chamoli felt that hoardings on rooftops spoilt the city charm.
Marking of Slum Areas
Chamoli asks officials to provide details to NGO
Dehradun, November 16
Dehradun Mayor Vinod Chamoli today asked officials to provide all details that were required to the NGO to complete the survey being carried out to mark slum areas in the city. He told them to speed up the work.
Gayatri Parivar spreads its wings to Pak
Haridwar, November 16
A 25-member delegation of Pakistani nationals has decided to form a Gayatri association in their country to spread the message of religious-spiritual brotherhood.
Rain-hit Kumaon now reels under water crisis

Pitthoragarh, November 16
Despite nearly 40 per cent more rainfall in the region during monsoon this year and government's claim that more natural water resources have been recharged, the Kumaon region is still facing a potable water crisis as hundreds of schemes in villages, which had been damaged in the rains, have not been repaired so far.
Residents of Pitthoragarh protest poor water supply in the town on Monday.

Rain-hit get Rs 52-cr aid
Dehradun, November 16
The Uttarakhand government has disbursed Rs 52 crore towards relief and rehabilitation among two lakh beneficiaries who were affected by the recent rain and cloudburst-induced disaster.
Guv flags off relief material
Dehradun, November 16
The Uttarakhand chapter of the Red Cross Society's Head and Governor Uttarakhand Margaret Alva flagged off relief material eight trucks meant for 1,276 families displaced in the recent rain-linked natural disasters in the state.
Appoint booth-level agents, parties told
Nainital, November 16
Almora's Additional District Magistrate (ADM) and Deputy Electoral Officer Rajiv Shah has asked the leadership of recognised political parties to appoint booth-level agents (BLAs) and provide a list of the same to the District Election Office at the earliest.
3 Armymen die as truck falls into gorge
Dehradun, November 16
Three Armymen died and six others got injured when the truck they were travelling in lost control and fell into a 100-m-deep gorge. The truck met with the accident while coming from Pauri to Dugadda near Fatehpur village late last night.
Youth takes on bear; both fall into gorge, die
Pitthoragarh, November 16
In a bizarre incident of man-animal conflict, a Himalayan black bear and a school-going youth died when they fought each other after the bear attacked the youth at Sainranthi village of Munsiyari sub-division of the district on Monday.
Seminar held on National Press Day
Dehradun, November 16
To mark the National Press Day, a seminar on journalism and challenge by the corporate world was organised at the District Information Office here today.
Class IV staff seek action against Bisht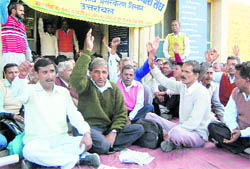 Dehradun, November 16
Class IV members of the Rajya Karamchari Sangh protested outside the Vikas Bhawan and submitted a memorandum to the District Horticulture Officer asking him to take action against Narayan Singh Bisht, state Horticulture Observer, Dhakrani, for using abusive language against them here yesterday.

Members of the Rajya Karamchari Sangh stage a dharna in Dehradun on Monday. A Tribune photograph

U'khand HC judge dead
Nainital, November 16
Justice Dharam Veer Sharma of the Uttarakhand High Court died in the early hours today. He was taken to Delhi for treatment after he fell sick on November 13. It is learnt that he had been shifted to Haldwani for preliminary treatment and was being transported to Delhi for expert treatment when he died of heart failure.
Declare Gairsain summer, Dehradun winter capital, says Vinod Barthwal
Dehradun, November 16
Samajwadi Party (SP) workers sat on dharna near the Gandhi Park here to denounce the state government policies and programmes.
Man shot dead by two youths
Nainital, November 16
The town of Haldwani was rocked by a daylight murder yesterday afternoon. The murder was committed just about a 100 metre away from the police station.

Rakhi's reality show draws public ire
Haridwar, November 16
Strong reactions have been pouring in in the pilgrim city regarding the content and negative impact on the common man of a reality show, anchored by Rakhi Sawant, being aired on a private television channel.
Rakhi Sawant