State policies anti-people: UKD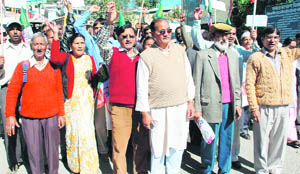 Pitthoragarh, November 9
"It is a sort of betrayal with people of the state that the people who had opposed the creation of the state captured power after the creation of Uttarakhand," said Kashi Singh Airy, senior Uttarakhand Kranti Dal (UKD) leader and leader of the Separate State Movement since 1979. He was reacting on the 10th anniversary of the state.

Senior UKD leader Kashi Singh Airy leads a protest at Pitthoragarh on Tuesday.

10th Anniversary of Uttarakhand
Create jobs to curb migration from state: Guv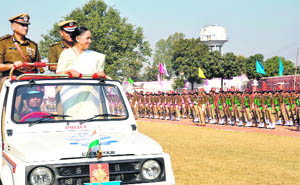 Dehradun, November 9
Owing to the disaster triggered by incessant rains in Uttarakhand, the main function of the 10th State Foundation Day was celebrated with not much fanfare at the Police Lines here today.


State police going great guns

Governor Margaret Alva inspects a guard of honour at a police parade in Dehradun on Tuesday. A Tribune photograph

Govt has failed to curb migration: Dhad
Dehradun, November 9
Painting a dismal picture of the state, Dhad, a social and cultural organisation, said successive governments in Uttarakhand had failed to stop migration of people from villages.
Ideal working culture eludes state: SP
Dehradun, November 9
A day before the State Foundation Day, the Samajwadi Party (SP) held a discussion on the topic, "Uttarakhand ki Dasha and Disha", to deliberate upon the achievements and failures of the state governments in the past 10 years.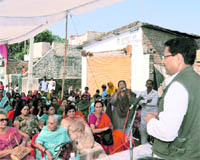 Surya Kant Dhasmana, Congress leader, addresses a convention in Dehradun on Monday. A Tribune photograph
Cong remembers statehood activists
Dehradun, November 9
The 10th anniversary of the state formation day was observed by the Dehradun Mahanagar Congress here today.
Minorities assn rues govt apathy
Dehradun, November 9
The Minorities Welfare Association today organised a workshop entitled "progress of minorities in the past 10 years of Uttarakhand State" was held in the Gadarpur area of Udham Singh Nagar district today.
IIT, Roorkee, student goes missing
Dehradun, November 9
IIT, Roorkee, is yet to be out of the lipstick scandal and a student has gone missing. Deepesh Gautam of Kota, a final-year student of MTech, has been missing since October 22. It's learnt that he mentioned his going to Delhi for some personal work and that he would be back to college in a day or two. When he did not return, his friends rang up his parents at Kota to know about his well being. His parents were alarmed and Deepesh's father Mohan Lal rushed to Roorkee where at the Civil Lines police station he lodged an FIR on October 28.
Three scientists to be felicitated
Dehradun, November 9
Dr DS Bhakuni, Central Drug Research Institute, Lucknow, Padam Shri VP Dimri, Gujarat Energy Research and Management Institute, Gandhinagar, and BK Gairola, Director of the General National Informatics Centre, New Delhi, will receive science excellence awards at the fifth Uttarakhand State Science Congress beginning tomorrow.
200 women seek free legal advice at camp
Dehradun, November 9
Members of the All-India Women's Conference (AIWC), Dehradun branch, held a legal help camp on the subject of "Violence against Women" in which 200 needy women sought free legal advice.
Conman held for cheating NGO
Dehradun, November 9
The police arrested a conman who, posing as an IAS officer, cheated a local NGO of Rs 6,000. According to a police compliant by Maya Rana, secretary of the Moda Dhunpur Kalyan Samiti, Nashville Road, Karan Bahadur duped her of Rs 6,000.
Jeweller's house burgled
Dehradun, November 9
In a daring daylight robbery, robbers entered the house of Anooj, a jeweller at Purav Dindayal Colony, when the entire family was away in Haridwar. As per reports, the robbers broke open the lock of the house and took away Rs 50,000 cash and jewellery worth lakhs.
Anganwari workers threaten to disrupt Jauljivi opening
Pitthoragarh, November 9
After the threat of Sahastra Seema Bal volunteers, also known as Guerrillas, anganbari workers too have threatened the government with preventing Chief Minister Ramesh Pokhriyal Nishank from inaugurating the Jauljivi fair on November 14 in protest against the non-fulfilment of their demands.