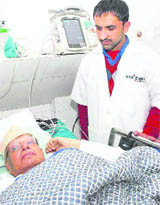 Tiwari taken ill
Dehradun, December 4
Former Governor of Andhra Pradesh and former Chief Minister of Uttarakhand ND Tiwari was admitted to the Doon Hospital today after he complained of uneasiness. Doctors attending on the 86-year-old leader said his condition was under control. He was suffering from dehydration. "We have given him treatment for dehydration, and if his condition improves we will be able to discharge him in the evening or tomorrow morning," said Dr KB Joshi, heart specialist, Doon Hospital.

Former Chief Minister ND Tiwari in the Doon Hospital, Dehradun, on Saturday. A Tribune photograph

Death of 10 Youths in Road mishap
5 days on, no relief to family members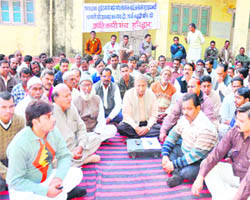 Haridwar, December 4
While residents have still not got over from the impact of the recent accident that killed 10 youths of same family, the apathy of the state government and administration towards the deceased family members has irked the residents of the area.




Local people and social organisations hold a symbolic protest in front of the District Magistrate's office in Haridwar on Saturday. Tribune photo:
Rameshwar Gaur

Tech education need of hour: Madan Kaushik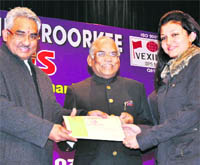 Roorkee, December 4
There is a need of skilled technical education in the state. Uttarakhand Urban Development Minister Madan Kaushik stated this at the 10th foundation day of the College of Engineering Roorkee (COER) held at the Vardhman Auditorium here today.



Uttarakhand Urban Development Minister Madan Kaushik honours a student during a function at the College of Engineering Roorkee on Friday. A Tribune photograph

Corruption in Disaster Relief Distribution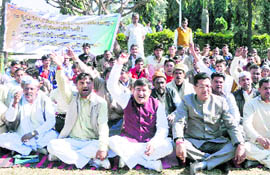 Cong workers stage dharna
Dehradun, December 4
Workers of the state Congress Committee staged a dharna at the Gandhi Park here today and accused the state government of being selective while distributing relief in the disaster-hit areas.



Congress workers hold protest at the Gandhi Park, Dehradun, on Saturday. A Tribune photograph

Cong leader seeks Khajan's resignation
Failure to provide relief to rain-hit
Nainital, December 4
Senior Congress leader Dhirendra Pratap has demanded immediate resignation of Minister for Disaster Management Khajan Dass for failing to provide proper relief to the victims of the recent rain-related disaster that has hit the state during the prolonged monsoon.
Amendments sought in proposal of land distribution to MLAs
Dehradun, December 4
The Uttarakhand Kranti Dal (UKD) has accused Central Environment Minister Jairam Ramesh for playing with the welfare of the state.
Saleem Ahmed is BSP town president
Mussoorie, December 4
The Bahujan Samaj Party (BSP) unanimously elected Saleem Ahmed as the town party president in a meeting at library bazaar gurdwara here today.
Congress leader holds review meet
Dehradun December 4
Senior Congress leader Dinesh Aggarwal held a meeting with officials of the Distribution Division (South) to review the incomplete works which had been approved by Uttarakhand Power Corporation Limited.
IT Vision begins
Dehradun, December 4
The Uttarakhand IT Trade Association (UITTA) commenced its two-day trade fair IT Vision at the Parade Ground here showcasing the latest IT-related products.
3 suspects held in alleged gang rape attempt
Victim had cooked up the story, says police
Dehradun, December 4
The police has arrested three suspects in connection with the alleged lifting and attempted gang rape of a first-year student of BCA.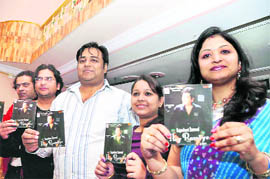 Folk album 'Hey Ramie' launched
Dehradun, December 4
"Hey Ramie", a folk album by Uttarakhand folk singer Rajnikant Saimwal, was launched here today. It is his second album; the first was "Tikuliya Mama". The album consists of eight songs, which include romantic and dance songs.


Folk singer Rajnikant Saimwal (second from left) at the release of his album in Dehradun on Saturday. A Tribune photograph

Security beefed up for IMA passing-out parade
Dehradun, December 4
In view of the passing-out parade of the Indian Military Academy (IMA) on December 11, the police has beefed up security.
Play staged at awareness fortnight
Dehradun, December 4
Disha, a social organisation, is observing awareness fortnight in 21 villages of Sahaspur and Vikasnagar. The theme of the fortnight is ending gender discrimination and violence against women.
Seminar on global warming concludes
Dehradun December 4
The two-day national seminar on "Global Warming and its Effect on Water Resources" held at Graphic Era University culminated here today. The seminar was sponsored by the department of science and technology (DST), New Delhi, and co-sponsored by the Uttarakhand Council of Science and Technology (UCOST).
State seeks Centre's assistance on dairy farming
Nainital, December 4
Agriculture Minister Trivendra Singh Rawat accepted that owing to a shortfall in milk production in the state, the inflow of adulterated milk was on the rise, particularly during the festive season. He said the state government was trying to improve milk production.