| | |
| --- | --- |
| Qmar Ali Akhoon, CAPD and Transport Minister, inaugurates the Oil and Gas Conservation Fortnight 2011 in Jammu on Saturday. Photo: Inderjeet Singh | Members of the Jammu Regional Committee of CPM hold a protest in front of the Raj Bhawan in Jammu on Saturday against the price rise. Photo: Inderjeet Singh |
Valley under thick blanket of snow
Highway partially opened to traffic, flights resume
Srinagar, January 15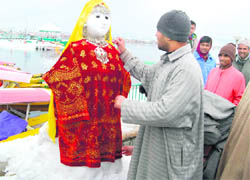 The Kashmir valley today remained under a thick blanket of snow after day-long moderate to heavy snowfall yesterday. The Srinagar-Jammu National Highway was opened to one-way traffic after remaining closed for a day. "The highway was closed yesterday as a precautionary measure. However, with improvement in the weather one-way traffic was restored on the highway today," Amir Ali, coordinator of the National Disaster Management Cell, Kashmir, told The Tribune.
A local admires a snow woman in Srinagar on Saturday. Photo: Amin War
Fresh snowfall in Patnitop likely to boost tourist influx
Udhampur, January 15
Intermittent snowfall since Thursday night in Patnitop and the surrounding areas of the Jammu region is likely to boost the rush of tourists, especially of those who missed the season's first snowfall in these areas on the eve of New Year.
55 posts created in eight new districts
Jammu, January 15
The state government has created 55 posts in various departments for newly created eight districts in the state, besides granting promotion to seven IAS and four KAS officers.
'Involve nambardars in development works'
Jammu, January 15
Former minister and senior Congress leader Ghulchain Singh Charak today demanded that nambardars and chowkidars, who are the backbone of the civil administration at the village level, should be involved in the grass-roots level developmental process to ensure quality work in the rural areas.
Norms violated in police recruitment, says Harsh Dev
Jammu, January 15
Harsh Dev Singh, working president of the Panthers Party and MLA, Ramnagar, has condemned, what he called, the violation of norms and recruitment rules in the recruitment rallies of the police held in different parts of the Valley recently.
State Executive Committee Meeting
BJP warns Centre against more concessions to state
Jammu, January 15
Even as the controversy over the party's scheduled programme to hoist the National Flag at the historical Lal Chowk in Srinagar is snowballing, the BJP today warned the Centre against giving further concessions to Jammu and Kashmir.
Officers asked to speed up development works
Udhampur, January 15
The District Development Commissioner (DDC), Udhampur, Baseer Ahmed Khan, has asked officers of various departments to accelerate the pace of the ongoing development works in the district to meet the targets set under the annual plan of the district.
Vegetable crops discolour due to cold weather
Jammu, January 15
The cold and foggy weather has affected vegetable crops, causing huge losses to farmers in the Jammu region. Experts opine that a similar spell of cold weather can cause a major loss to farmers. Besides vegetables, fodder crop, coriander, mustard, cauliflower and spinach have also been affected due to it, they add.
10 sheep killed in lightning strike
Jammu, January 15
As many as 10 sheep were killed and a shepherd was injured when lightning struck at Bidasan Bala village in Rajouri district last night.
Training for census workers postponed
Udhampur, January 15
The training schedule for master trainers, supervisors and enumerators appointed by the Census Charge Officer (tehsildar), Udhampur, has been postponed.
Vehicles stranded due to snowfall
Udhampur, January 15
The closure of the Jammu-Srinagar National Highway due to heavy snowfall has left hundreds of commercial and private vehicles stranded in the Jammu region. The development has dampened the hopes of the hoteliers and tour operators, who till yesterday were looking forward to a great tourist season.



Dancing divas: Students of Vidya Peeth Public Higher Secondary School, Mubarak Mandi, participate in the annual day function in Jammu on Saturday. Photo: Inderjeet Singh


Members of the Bahujan Samaj Party celebrate the 55th birthday of Mayawati, national president of the party and Uttar Pradesh Chief Minister, at the BSP
office in Jammu on Saturday. Photo: Inderjeet Singh