Young World

Apeejay college felicitates meritorious students
Tribune News Service
Jalandhar, March 10
The Apeejay College of Fine Arts today organised its 36th annual prize distribution function "Felicitations", during which meritorious students in various disciplines were given away prizes.
Chief guest Deputy Commissioner Priyank Bharti awarded the students. Students presented a mime titled "The Show must go on", which has won many awards at national and international youth festivals. Students from the department of dance brought alive the spirit of Holi with their vibrant dance performance.
Toshin and Gurpreet, nationally recognised santoor players, mesmerised the audience with their stupendous performance.
In his address, Bharti said three things in life are indispensable - hard work, commitment and a passion for some creative outlet. "I firmly believe that nothing is impossible if a person is committed to his goal," he added.
Principal of the college Dr Sucharita congratulated the students and faculty who had taken Apeejay to such heights.
Women's Day
Kanya Maha Vidyalaya (KMV) celebrated International Women's Day on its college premises. Principal of the college Dr Atima Sharma congratulated the students and staff.
She said women do not need a single day to salute their spirit, grit, courage, strength and perseverance. Faculty members along with the Principal sat down to chalk programmes for providing value education to young women and also improve the sufferings of the underprivileged ones.
Seminar
The Social Sensitisation Group and Women Grievances Redressal Cell of Lyallpur Khalsa College organised a seminar on "Woman is not unfinished man, but diverse".
In her address, ADC (D) Sarojini Gautam Sharda said education was the only potent tool for women empowerment in real sense. She urged the students to realise their rights and employ their education in bringing about the needed social change.
A special lecture on "Breast cancer" was also held in which Dr Sumel Bath spoke on the early detection, diagnosis and treatment of the malady.
Principal of the college Dr Jaspal Singh Randhawa highlighted the role of women in the family, society and in the establishment and preservation of culture, adding that about around 60 per cent of teaching staff of the college was constituted by women.
Placement drive
The Apeejay College of Fine Arts organised a placement drive in which the students bagged placements with companies like LIC, DLF, ICICI, SBI Life Insurance, Genpect and Competent.
Principal of the college Dr Sucharita Sharma congratulated the students on their achievement.
Farewell party
Hans Raj Mahila Maha Vidyalaya (HMV) organised a farewell party, "Sayonara", for its final-year students.
Students presented cultural items like dance, song and modelling. As per the college tradition, "Gyan Jyoti" was passed on to the second-year students by final-year outgoing students.
After modelling, titles were given to students, including "Miss Farewell", "Miss Million Dollar Smile", "Miss Ethnic", "Miss Punjaban" and "Miss Stylish".
The students also played various games and won prizes. All the students were given best wishes cards also. Principal Dr Rekha Kalia Bhardwaj gave best wishes to the students and prayed for their bright future.
Medical camp
The NSS wing of the Kamla Nehru College for Women, Phagwara, in collaboration with the Civil Hospital, Phagwara, organised a free medical check-up camp at Chak Hakim village. The camp was organised under the community awareness programme.
Besides the complete physical check-up, residents of the village and students of Government Elementary School were given tips on daily healthcare. Prescribed medicines were given free of cost.
Financial support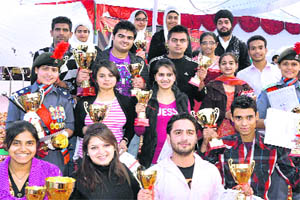 Students of Lyallpur Khalsa College pose with their trophies after the prize distribution function in Jalandhar. Tribune photo: Malkiat Singh
The Lyallpur Khalsa College for Women in collaboration with the Lyallpur Khalsa College Managing Committee facilitated the needy students with financial support in form of funds and scholarships.
The gross donated fund amounts to be Rs 2,90,000, including college management fund of Rs 1,50,000, NGOs fund of Rs 50,000, UGC grants for BC/SC and minority classes of Rs 80,000 and a donation of Rs 10,000 by the staff of the Commerce Department. The primary aim of the initiative was to enhance and upgrade the literacy level of the needy students by facilitating them with financial support.
Wipro's drive
The local CT Group of Institutions in association with Wipro BPO would organise a mega job fair in Jalandhar at its Maqsudan campus on March 11 from 11 am to 5 pm. This is the third consecutive job fair of Wipro and CT Group in the last three years.
Assistant Vice-President, Talent Acquisition of Wipro BPO, Vikas Dua said students from any college could apply in this job fest. "Students should be above 18 years of age and possess good English communication skills. The selected students will work at our upcoming Greater Noida BPO centre," he added.
Blood donation
Lovely Professional University organised a three-day blood donation camp with the help of the Indian Red Cross Society, Punjab Institute of Medical Sciences and NGO Pahal on the campus. Students and members of the staff donated 801 units of blood.
Awarded
Dr H.K. Singh, Executive Director of the Management and Industrial Institute, was presented a lifetime achievement award by Sandeep Marwah, Director of Asian Business School, Noida, for his contribution in management education for the past 40 years.
Dr Singh is also serving as a member of the District Education Board.