Pollution control unit staff strike affects Haridwar life
Tribune News Service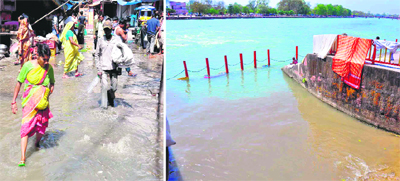 (Left) People wade through sewage in the Vishnu Ghat area and (right) untreated sewage flows into the holy Ganga in Haridwar on Thursday. Tribune photos: Rameshwar Gaur

Haridwar, March 31
Life in the city is getting severely affected due to the strike by employees of the Ganga Pollution Control Unit of the Uttarakhand Water Corporation, as the pumping stations and treatment plants have been shut down, resulting in the sewer water getting into the city. Moreover, filthy water is directly getting into the holy Ganga.
The agitating employees are opposing the recent notification of the Uttarakhand Government regarding the handing out of the projects related with the unit to the Jal Sansthan. The protesters are terming this as biased and uncalled for.
Several colonies like Vishnu Ghat and Bhimgoda are severely affected due to the strike as the stink, filth and sewage overflow have made the area semi-submerged in the sewage water. Residents complained to the higher authorities, but to no avail.
Besides, the untreated sewage water is directly merging into the Ganga, putting questions on the state government's much-touted Clean Ganga project.
To put forth their demands, including adjustment of unit employees with the Jal Sansthan, various unions, including the pay roll and temporary employees, have formed a joint forum.
Joint forum chief Chaudhari Nareshpal said transfer of projects of the units to the Jal Sansthan would not be tolerated and till their demand was met, the sewerage system would be out of order in Haridwar and Rishikesh.
The agitating employees, lashing out at the decision of the state government, took out a huge two-wheeler rally in the city. Taking cognisance of the issue, Haridwar MP Harish Rawat has discussed this issue with State Drinking Water Minister Prakash Pant and secretary concerned for having an all-party solution to this issue.
Meanwhile, the indefinite strike affected the state of sewer lines at Rishikesh, too, as the employees abstained from work, making the city roads and the Ganga inundated with filth and sewer.
In a meeting held at Mayakund sewage pumping station, the agitators alleged that with the state government was issuing notification and discrimination was being done with them without taking them into confidence.