COLUMNS



THIS ABOVE ALL

TELEPROMPT

GOOD MOTORING

LIFE'S LESSONS

LEXICON

FOR CHILDREN



CROSSWORD

RHYME TIME
Earlier Feature


TELEVISTA


AUDIO SCAN
Ties of success
Does success act as the third partner in a celebrity couple's life? Does it create fissures or act like an indestructible glue? Nonika Singh finds out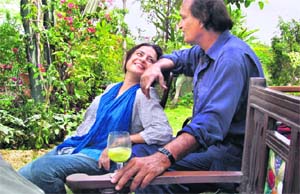 Famous couples — the world views them with a mixture of curiosity, envy, admiration and awe. No other couple catches ordinary mortals' attention as the celebrated ones, where neither basks in the reflected glory of the other. Rather each partner shines on his or her own mettle, carries its individual halo of glory and has little fear of being overshadowed or smothered by the attention paid to the other.
India's leading lensman Raghu Rai and wife Gurmeet Rai (L), a conservation architect, hail from different professions

Designs on dreams
I don't need Bollywood endorsement, says designer Sabyasachi Mukherjee in a chat with Bohni Bandyopadhyay
He is the favourite designer of actresses like Rani Mukerji, Aishwarya Rai and Vidya Balan but Sabyasachi Mukherjee, who has designed for many films as well, says he doesn't need Bollywood stars to endorse his work.
Scrooge is the richest
A miserly duck, a vampire and pair of precocious kids are among the richest fictional characters, according to a ranking by Forbes. Scrooge McDuck, the "penny-pinching poultry" with a fortune in gold coins whose estimated worth is $44.1 billion, headed the list of Forbes' "Fictional 15" wealthiest imaginary characters.