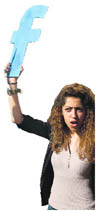 Digital activism
From Anna Hazare's campaign against corruption to fundraising for Japan's tsunami victims, causes and crusades on social networking sites like Facebook are getting bigger and connecting the youth like never before, writes Mehak Uppal
IT is no longer a tool, it is a phenomenon that has gripped the young world; blurring the lines between the real and the virtual. As the lines blur, both the worlds have become fluid, with a cause in one realm leading to an effect in the other. As the two intermingle and diverge again and again, the trend points to a cyber platform with an ever-increasing power — at least for those with access.



Crusade in cyberspace
In love with innocence
Giving refuge to stray dogs is Radha Rajan's passion. She also finds it appalling that people consider animals as a source of entertainment, writes Hema Vijay
WHEN they see Radha Rajan's car coming down their street in south Chennai, young Chitti and six others run forward joyously to meet her. She greets each of them personally, calling them by their names, and offers them a nutritious meal.


Cotswolds, with gentle hillsides (wolds), sleepy villages and an achingly beautiful countryside, is the most English part of England, which still preserves the old-world charm, writes Sumitra Senapaty
IT is hardly a two-hour drive, 40 miles west of London, but you seem to drive back three centuries. The Cotswolds are well-known for gentle hillsides (wolds), sleepy villages and for being so 'typically English'.
Lab-grown human heart
Scientists are growing human hearts in lab which they believe could start beating within weeks, offering hope to millions of cardiac patients. The experiment is a major step towards the first 'grow-your-own' heart, and could pave the way for made-to-order livers, lungs or kidneys.
Dating site for "large folks"
A first-of-its-kind dating website for people "larger than life" has come up in Britain, that also says slim people "need not apply." Around 1,000 people flocked the site — FunPie.co.uk — in the first 12 hours of its opening.
Nazi regime sketches found
THE sketches of one of Adolf Hitler's official artists, who erased his name from the records in shame after the World War II, are now being brought to light after 65 years.
Gay turns mainstream
Debutant Sanjoy Nag's Memories In March opens a new window to the social mindset of the third gender, writes Shoma A. Chatterji
INDIAN cinema still shies away from portraying the gay identity. Some sections of a rather conservative audience that have stopped looking the other way when a bedroom scene happens on screen, still cannot take to lesbian and gay love.
It's showtime
The New York Indian Film Festival is getting bigger, better and exciting, writes Arun Kumar
IT could become the Indian counterpart to Sundance. This year's New York Indian Film Festival (NYIFF) still features Indian independent and diaspora films, but each year "it's getting to be bigger, better and more exciting than the last," says its creator Aroon Shivdasani.