Strong voice
Abhishek Bachchan, in the city to promote his upcoming venture Dum Maaro Dum, was ready for every question fired at him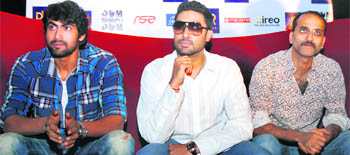 To begin with, there were female fans shouting at the top of the voices – 'I love you Abhishek'. There was also one who didn't mind taking the mike just to say – 'I am not a scribe but took the mike just to tell you that wish I was Aishwarya Rai. I won't mind waiting for a lifetime for you'.
Three musketeers: L-R: Rana Daggubati, Abhishek Bachchan and Rohan Sippy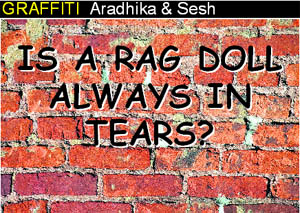 Success Mantra
GO the extra mile
Every new enterprise begins with an idea. The bottom line is don't sit on that idea. Move with it and you would see how things fall in place. Amit Kakkar, managing director Healthyway Immigration Consultant Pvt Ltd, scripts his success story that started with an idea. The next moment he was up and about. Three years down the line, Amit, with no degree in business administration, parental property or 'right connections' has established his company Healthyway as a brand with 76 centres across the country.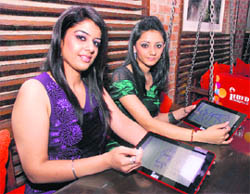 Digital designs
Fashion institute digitalizes its syllabus to keep in sync with time
Talking to students in their own language is what International Institute of Fashion Design believes in. Their latest venture — replacing textbooks with design pads. INIFD design pads are a one-stop solution for syllabus, taking down notes, track assignments, share ideas instantly and reach out to library.


Tech Savvy: Young designers mix creativity with technology PHOTO: S CHANDAN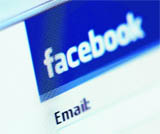 Face value
Social networking site Facebook is using its users's profile, status updates, messages and other information to help advertisers find exactly who they want to reach out to. Facebook is now tracking this activity, shooting online ads to users based on their demographics, interests, even what they say to friends on the site sometimes within minutes of them typing a key word or phrase.
The 'in' side


Summer proof your den
It's nice to lighten up the house and bring in the freshness of summer. It's time to de-clutter and move a few things around. Create space and this will give your house a breezier look.
Par Excellence


Get the right plane
The Swing Plane is probably the most misunderstood or debated part of the golf swing. As golf is a side-on game the club must swing on an arc, which is from Inside-to Square to target line-to-inside again. The degree of curvature can vary. We do not want to cross the target line, which would be the case in an inside-to-out or an out-to-in path. These paths refer to the downswing and not the back swing.
Enter the BEST
Numerical data…analysing it is not an interesting prospect. But one odd time, it can be attention grabbing. Like this one—India currently has over 2,00,000 hotel rooms spread across hotel categories and guest houses, and is still facing a shortfall of over 100,000 rooms (source: FHRAI). The country is witnessing an unprecedented growth in hotel constructions and will be adding almost 1,14,000 hotel guest rooms to its inventory over the next five years. (source: HVS)
HEART talk


Guide, Not impose
I am mother of an 18-year-old beautiful daughter. I have given her the liberty to make her own decisions. However, now I feel she is taking undue advantage of this. I don't want to strain my relationship with her. At the same time, I want to tell her that she shouldn't take advantage of the liberty I have given her. What do I do?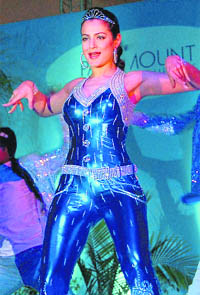 Rhyme with Rhythm: Bollywood actress Amisha Patel performs during a function in Greater Noida. — PTI
Women make better gardeners
If you want a great garden, hand the gloves to women. For they are better at choosing, arranging and tending to flowers, planting hanging baskets and selecting garden ornaments, according to a new study.
Rohit casts 15 Marathi actors for Singham
After a string of comedy super hits over the past few years, director Rohit Shetty is back to working on the genre which he loves the most. This year, the talented director is churning out his latest cop action flick, Reliance Entertainment's Singham, which is the remake of a hit Tamil movie.
Agyness wants to 'find herself' in India
Her wild lifestyle and love life, including a romance with Hollywood heartthrob James Franco, grabbed headlines and now supermodel Agyness Deyn is preparing for a trip to India in a bid to "find herself".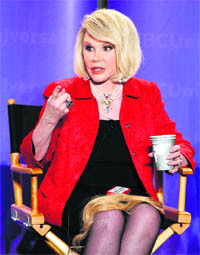 FASHION FUNDA: Host Joan Rivers answers a question at the E! panel for the television show Fashion Police during the Television Critics Association summer press tour in Pasadena, California. — Reuters
Penelope wants more musicals
Oscar winning actress Penelope Cruz wants to act in more musical movies. The 36-year-old actress, who played a Burlesque dancer in Nine, has appealed to Hollywood casting directors to find her a role in an upcoming musical movie. The Spanish beauty, who recently gave birth to a son, said she was inspired again by fellow actress Gwyneth Paltrow's show-stopping performance on the hit TV sitcom, Glee.
Brad learns to cook
Hollywood superstar Brad Pitt is taking cooking lessons from celebrity chef Jamie Oliver so that he can rustle up home made treats for his brood of six children.
Chatter Box
From London to Mumbai streets...
Anita Hassanandani of Vikram Bhatt's Anhoniyon Ka Andhera on Colors shares her list of favourite destinations in India and abroad.

n Confidence key to Sanjeeda's style
n Sexy in stilettos
n Usha Uthup to sing for charity
Madhuri, the style diva
Madhuri Dixit looks gorgeous and she is glowing these days. Her sense of style has come a long way too. She usually wears traditional clothes that suit her. We take a look at her style statement.
| | | | | |
| --- | --- | --- | --- | --- |
| Black beauty: She looks lovely and we like the simple and elegant saree with the motifs. She has draped it right. She keeps her accessories to bare minimum with a clutch and a bracelet. | Ethnic look: The combination of red, maroon, and gold looks rich. Her feet look very pretty. We are glad that her anarkali is not floor length. | Casual blunder: Madhuri does not impress with this one. The jeans should have been skinny and tight. We do not like the visible inner. Overall, the clothes do not make an impact. | On dot: We love the polka-dotted black, gold, and red saree. She knows how to cover her weight. We like the jhumkas and the simple make-up. She allows the saree steal the show. | Kya baat hai: That is her expression. She is a sight to behold in the soft sea-green and lavender saree. She looks completely relaxed. |