Chatter Box

From London to Mumbai streets...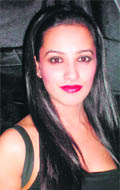 Globe-trotter: Anita Hassanandani
Anita Hassanandani of Vikram Bhatt's Anhoniyon Ka Andhera on Colors shares her list of favourite destinations in India and abroad.
London
London tops my list since the city is so beautiful. It's scenic and just perfect in every way. I love the weather, the architecture and just the feel of being in London.
Goa
Goa is the nearest getaway from Mumbai. The first thing that comes to ones mind when you think of Goa is beaches and that is exactly the reason I love the state.
Milan
Milan is just beautiful and stunning. I love visiting the churches there. Their architecture is awesome.
Paris
Paris is classic. It is great for everything right from sightseeing to shopping.
Mumbai
The city in which I live, Mumbai also features in my list of favourite places. There is something about the city that no other place has and only a Mumbaikar can understand that feeling. — HRM
Confidence key to Sanjeeda's style




Body basics:

Sanjeeda Sheikh
Sanjeeda Sheikh, who stars in Hi! Padosi..Kaun Hai Doshi? On Sahara One, has an immaculate sense of makeup and style. We catch up with the pretty lady and get her to share makeup and fashion tips with her fans.
How would you describe your style?
I have my own sense of fashion and style. I am not brand conscious and know that not everyone can afford branded stuff. I do not hesitate to shop in stores as Linking Road in Mumbai. The city has excellent options for street shopping.
What are your fashion mantras?
I make sure that I feel comfortable in whatever I wear. You should decide about what looks good on you and feel confident about your body as that is of utmost importance. Also, a pair of great shoes can make even the plainest of outfit look good.
Which is the fashion trend that makes you cringe?
Over accessorising is a big no no for me. If you are wearing a printed top then just teaming it up with small earring is enough. Blingy bags are great but make sure that your outfit does not have bling.
Which are the most important items in your makeup kit?
My makeup kit always has a good quality kajal, blush on, mascara, lip balm and a
perfume.
How do you maintain healthy hair?
Oiling is good for the hair. So make sure you oil it every alternate day. I do not wear a wig for my show Hi! Padosi..Kaun Hai Doshi? So I have to make sure that my hair looks naturally good on screen and oiling helps me do that.
What is the secret behind you flawless skin?
It is thanks to my genes that I am blessed with a healthy skin. I use MAC makeup products and make sure to clean my skin of all makeup before going to bed. I try to avoid makeup when I am not shooting.






Height of Joy:

Whitney Port
Whose beauty and style do you admire?
Shilpa Shetty has a great body and everything looks good on her. Even Kareena Kapoor carries off everything that she wears, beautifully. — HRM
Sexy in stilettos
TV host Whitney Port loves to put on her favourite stiletto heels in order to instantly feel sexy. The 26-year-old says she slips into her favourite high-heeled shoes whenever she needs a confidence boost.
"Slipping on a pair of stilettos instantly makes me feel sexy, skinny and tall. I always try and break them in by walking around in them at home and I'll scuff the soles so I don't slip. Buy gel insoles too — they saved the day at my sister's wedding," Port said. — IANS
Usha Uthup to sing for charity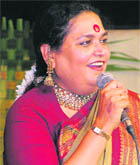 Noted singer Usha Uthup will perform at a charity event in Oman capital Muscat. Proceeds from the show would go to a charity working towards cancer awareness.
Other artistes, including singers Anand Narayan and Reshmi Vijayan, at the April 29 free-for-all event organised by Y's Men International, will accompany the singer. Y's Men International is a socio-cultural wing of the Young Men's Christian Association (YMCA). Money raised from the programme will go to the National Association of Cancer Awareness (NACA).
"This is the first programme from Y's Men in Oman and we want to make it memorable," Mammen George, president of Y's Men, was quoted as saying by Oman's The Week newspaper. Indian Ambassador to Oman Anil Wadhwa will felicitate Usha Uthup, recently honoured with the Padma Shri, one of India's highest civilian awards.
A dance programme choreographed by dancer Sreevidya Vijayan will also be staged. An array of other popular Indian television actors, comedians and singers will also perform at the show. Y's Men helps needy children in Indian schools in Oman by paying their fees. —IANS